The 4th Annual Language Sciences Undergraduate Research Conference (LSURC) was held on February 7-8, 2020.
Congratulations to our winners!
First place: Chloe Farr (U Vic)-  "

Pitch variation in Umuahia Igbo"

 
Second place (3-way tie; winners announced in alphabetical order): Lauren Denusik- "Children's perception of foreign accented consonant clusters" / Paris Gappmayr- "The development of the quantifier "some" in children"/ Charul 

Maheshka- "

The interaction between perception and language: How we reason about quantities"
First place: Christina Sen- "Hearing accents in noisy environments"
Second place: Christine Song, Ivan Fong, Amanda Eliora- "Korean A-not-A questions: Is it neutral or not?"
A complete program booklet for both days of the conference will be uploaded soon.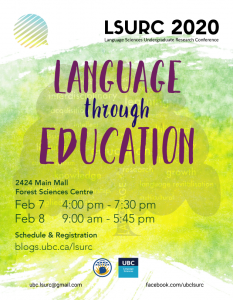 Interested in getting involved? Join our Organizing Committee? Collaboration? Check out Get Involved for more information or email us at ubc.lsurc@gmail.com 🙂 
—————————————————————————————————————————————