Currently listening to: "Superboy and the Invisible Girl" – Next to Normal OBCR
COURSE REGISTRATIONS for upcoming second-years start in a week (July 13) and already, a plethora of courses are either full or teetering at that point, with three seats left, give or take. I was looking forward to taking PHIL 385: Existentialism, before it filled up. I watched it diminish from 90 seats to 40 to 3 and then to nothingness. And don't even get me started on BIOL 121, which sits there mocking me! Mocking, I say! with its completely overbooked classes and unopened waitlists except for that 8 a.m. class, which has a grand total of 15 seats left (and counting). This is especially frustrating as I struggle to get into the second-year prerequisites for both a French and a Psychology major. Seven days to go; we shall see how it all pans out. These hawk eyes are watching those French classes; nobody is taking Voltaire away from me! Meanwhile, we draw our thoughts away from those confounded course registrations to those of…
COOKIE-BAKING. I've been feeling rather domestic lately. This is unusual. For those who are unfamiliar with my cooking habits; well, let's say most of my friends would rather have me play with pointy objects than cook them a meal. I have ruined microwave popcorn and would rather not tell that story here. But over the past few weeks, I've baked jimjams twice, once with sugar-cookie bases and the other time with peanut butter cookie bases, and Nutella swirl cookies…and a cake for la fête de la St.-Jean Baptiste, if we're just getting into baking in general. Surprisingly, they have emerged rather successfully from the oven…to grabby hands (teenage brother in a growth spurt will demolish any freshly baked goods).
Jimjams with sugar cookie base:

Nutella Swirl Cookies: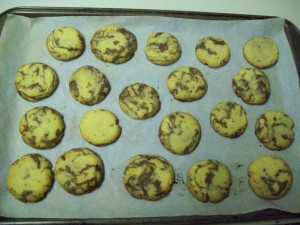 I will post the recipes if anyone is interested!
Tags: baking · course selections9 Comments