Hello ENGL 470, and welcome to my blog (that I have yet to come up with a creative title for, but perhaps inspiration will strike sometime during this semester)! This blog is a component of a Canadian Studies course I am taking at the University of British Columbia (UBC) titled "Canadian Literary Genres" or as Dr. Patterson has named it – "Oh Canada … Our Home and Native Land?".
I'm a third year Art History major, although this is still my first year at UBC. I did the first two years of my undergrad at the University of Ottawa, but it was just too cold for me there, so I decided to move back home to BC where I find the mild climate more agreeable!
So far in my studies in Art History I've had the privilege of learning about many past and contemporary Canadian artists. One of the things I love most about art is the power that it has to communicate with the viewers. Whether its a political message, or an artist's personal story, art opens up opportunities for dialogue through what the art is communicating, and how the viewer receives, interprets, and responds to the message that is being communicated.
As this is my first upper-level English course I was a bit nervous about taking it on, but after reading the course blog more I was able to draw many parallels from what I know about studying art to what we will be learning in the class. As is also the case in literature, First Nations artists have often been excluded from what we have been told is "Canadian art". We know of the Group of Seven, and Emily Carr as artists who were known for producing what is often held as quintessential Canadian art, but in order to really understand what Canadian art is we have to realize that the omissions speak volumes. I am grateful for the professors I have had who taught me to problematize the idea of a Canadian art that is predominantly white and male, and who exposed me to the works of many great First Nations artists! One of my favourite contemporary First Nations artists is Vancouver based Brian Jungen who uses his art to critique stereotypes and the appropriation of Aboriginal cultures. Check out his exhibition "Prototypes for New Understanding," its amazing how he can take pairs of Nike Shoes and re-work them to resemble traditional masks of the Coast Salish people!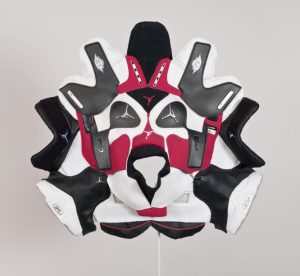 In this course I look forward to exploring literature as a different medium of storytelling than what I am used to with art, and I hope to expand my understanding of how European and First Nations stories and perspectives have shaped Canadian literature. I am always open to constructive feedback with my writing, and discussion, so please comment!
– Natasha
Works Cited
"Emily Carr." Vancouver Art Gallery. n.d. Web. May 12, 2016.
Gambino, Megan. "One Man's Trash is Brian Jungen's Treasure: Transforming everyday items into Native American artwork, Jungen bridges the gap between indigenous and mass cultures". Smithsonian Magazine. September 2009. Web. May 12, 2016.
"Group of Seven". Canadian Encyclopedia. n.d. Web. May 12, 2016.
Jungen, Brian. "Prototype for New Understanding #23", 2005. Nike Air Jordans, 18Ω x 20Ω x 5 7/8. Collection of Debra and Dennis Scholl, Miami Beach, Florida. Courtesy of Debra and Dennis Scholl. October 16, 2009. Web. May 12, 2016