Nick or WeiTao?
Nick is a second year PhD student in forest hydrology at UBC. He is currently on leave of absence (2019-2020) from his study and working as a Junior Scientist for Knight Piésold Consulting in Vancouver BC.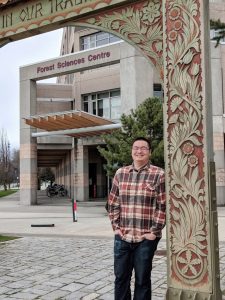 Nick received his B.Sc. (Hons.) Environmental Science degree from Simon Fraser University (SFU) in 2013, with specialization in Water Science. During his time at SFU, he has spent time working in the Soil Science Lab and in the Climate Research Lab as a research assistant. At the end, Nick's passion is in water and he decided to further pursue grad studies in hydrology at UBC under the supervision of Dr. Younes Alila, P.Eng, (forest and engineering hydrologist). Nick completed his M.Sc in Forestry (hydrology) before starting his PhD study in the same lab in 2017. Nick has been acting as the Senior Teaching Assistant for FRST385/FOPR388 (Introduction to Forest Hydrology/Methods in Forest Hydrology) and as a Graduate TA for APBI200 (Introduction to Soil Science) and FRST231 (Introduction to Biometrics). Nick also acts as a volunteer TA in the teaching of FRST590/591 (graduate level advance stochastic hydrology course offered by Dr. Alila in Forestry, although the majority of the students have been coming from the engineering department). These two courses are not offered annually and if you are interested in taking them please email Dr. Alila to express your interest.
Nick's MSc research was related to how hydrologists analyze and quantify forest harvesting practices (logging and forest road building) affect large peak flows in small headwater catchments in the Rain-On-Snow region. Nick presented his work in the 2017 Fall Meeting of the American Geophysical Union (AGU) in New Orleans.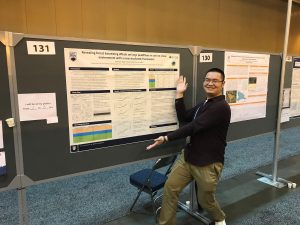 For his PhD research, Nick is focusing on non-stationary statistical hydrology in some larger catchments. Hoping to answer the questions of how we have changed our river system after years of deforestation and afforestation practices. Have the large floods became larger? Smaller? More frequent? Less frequent? How much was the change in hydrology caused by changing vegetation cover vs. changing climate?