You've already learned about the culturally bountiful cocktail that is this year's MM cohort – with 15 different backgrounds to constantly peak our perspectives. We sync for many reasons, but one of our key commonalities is the draw towards beautiful Vancouver, BC. While we learn from each other in the safety of our UBC bubble, study breaks mark the opportunity to explore our surroundings.
You may have heard rumours that Vancouver is all beauty and no bustle. But as a native Vancouverite of 13 years, I've seen this city bloom into a thriving marvel that's evolving constantly. With an international brigade by my side, this has given me the opportunity to relive the city through their eyes, and play local tourist myself.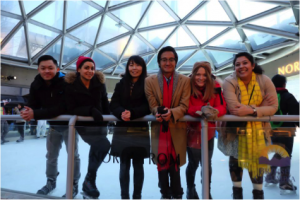 We've got a myriad of ever-changing & exciting activities, particularly under the glitz and glimmer of the holiday season. Downtown becomes a shimmering spectacle, with its central Robson Square transformed into a skating rink. So for Lady Canadiana, we strapped up our laces and embraced this new experience for many! After 3 months of mutual support through multiple learning curves, we knew we had each other's backs (and bottoms) on this slippery ride.
And our international cohort plowed through beautifully! Little did we know, we had an Elvis Stojko in our midst in the form of the fashionista himself: Mr. Phaokan! The veterans went hand-in-hand with the rookies, and we were all embracing the ice dance before we knew it.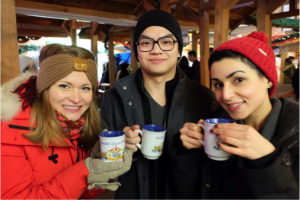 Our skating success earned us some much-needed refuel, and the opportunity to visit another local hotspot: the Vancouver Christmas Market. This annual favorite is quintessential of the traditional German style, with every kind of yuletide grub available. A perfectly apt representation of our various cultural offerings, and one of my personal favorites. Not surprisingly, we finished the evening with bellyfuls of free samples, from kettle corn to sauerkraut, coco to vino.
But this is just a small dose of the city's seasonal offerings. Rain or rain, you're guaranteed to see Vancouverites out embracing our gorgeous surroundings and communal cultures alike. Our eagerness is authentic, as we crave to learn and experience our diverse landscape. From sea to sky, we're an eclectic, effervescent bunch – always active, always in the moment.
– Sher Najafi