This is a suggestions page. I will be posting Canadian plays and other literature that I find very interesting. If you have a suggestion of something I might be interested in, Please feel free to let me know.
Happy reading
Sean
The first play I would love to recommend is Unity (1918) by Vancouver/Victoria playwright Kevin Kerr.  The story is the tragedy of the town of Unity Saskatchewan in 1914 and how the Spanish Flu decimates the town. The play deals with the citizens coping with illness and with war.

(Image is taken from a google search and is the cover of the play)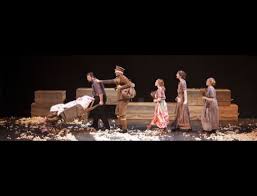 Unity 1918 at the Phoenix Theatre at The University of Victoria (I'm pushing the wheelbarrow) 
This image was taken from The Belfry Theatre in Victoria BC. This play was written by Kat Sandler and is a new play about a girl's trouble growing up in a divorced household. She is still in contact with her Imaginary Friend, Mustard.