Week 10: Humans of Vancouver
For this week's assignment I decided to capture different rituals of self-care, individuals partake in as a form of destressing and self-love. The first photo captures Jasmine's day at Stanley Park, taking advantage of the beautiful sunny weather, packed with vitamin D which is excellent for one's health. The next photo is a picture of Naomi's doodles, which is both one of her greatest talents and most favorite way to escape from the chaotic world we are surrounded by. The third photo shows Georgia winding down after a long day at work by whipping out her craft supplies and diving into the art of painting. The last photo is a snapshot of Jasmine's spontaneous False Creek kayaking adventure, one of many outdoor activities she loves to include in her busy school life. I believe all of these photos represent the importance of implementing daily rituals that allow us to take care of ourselves, mentally, physically and emotionally.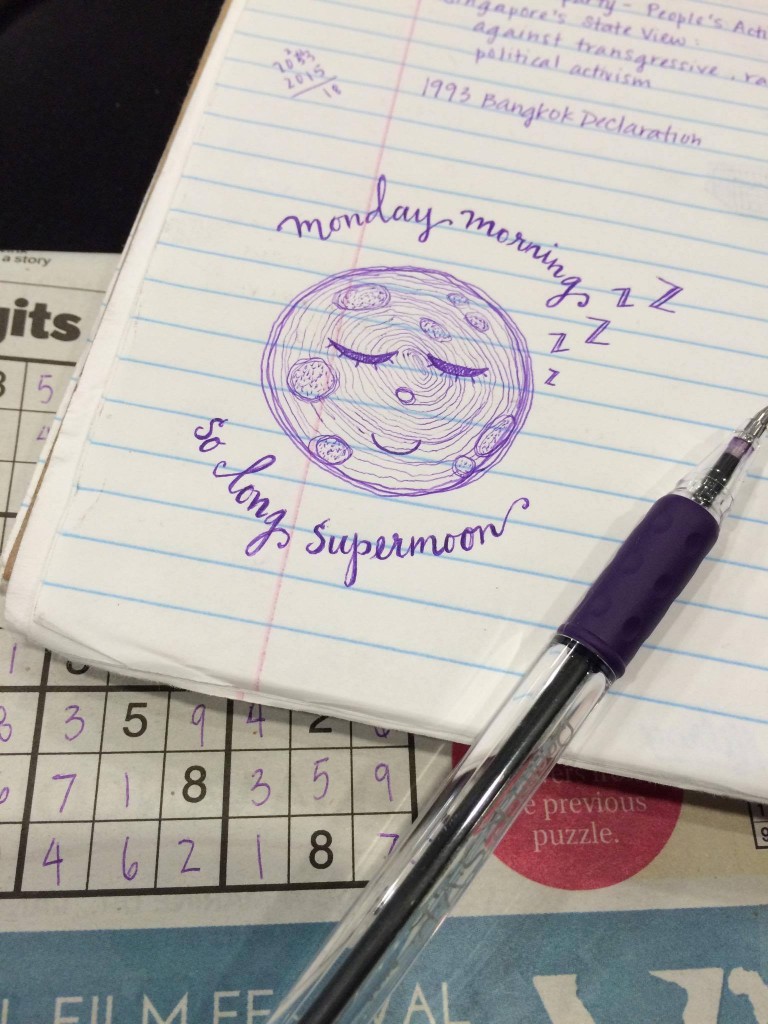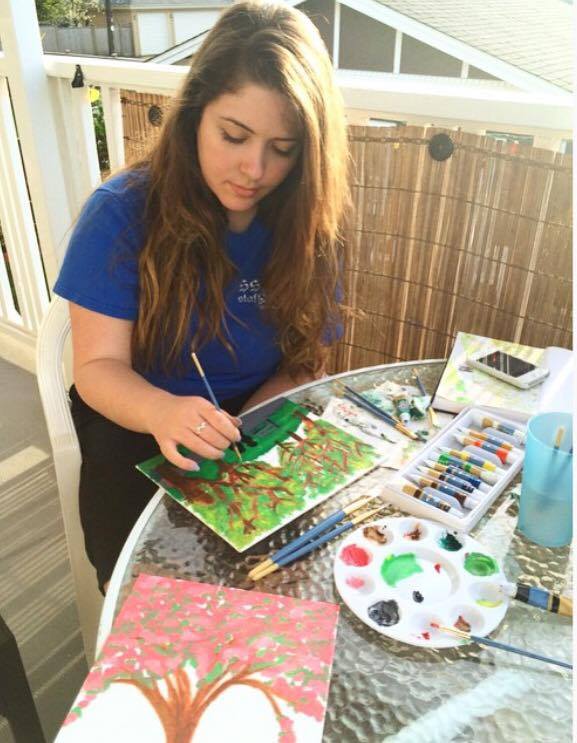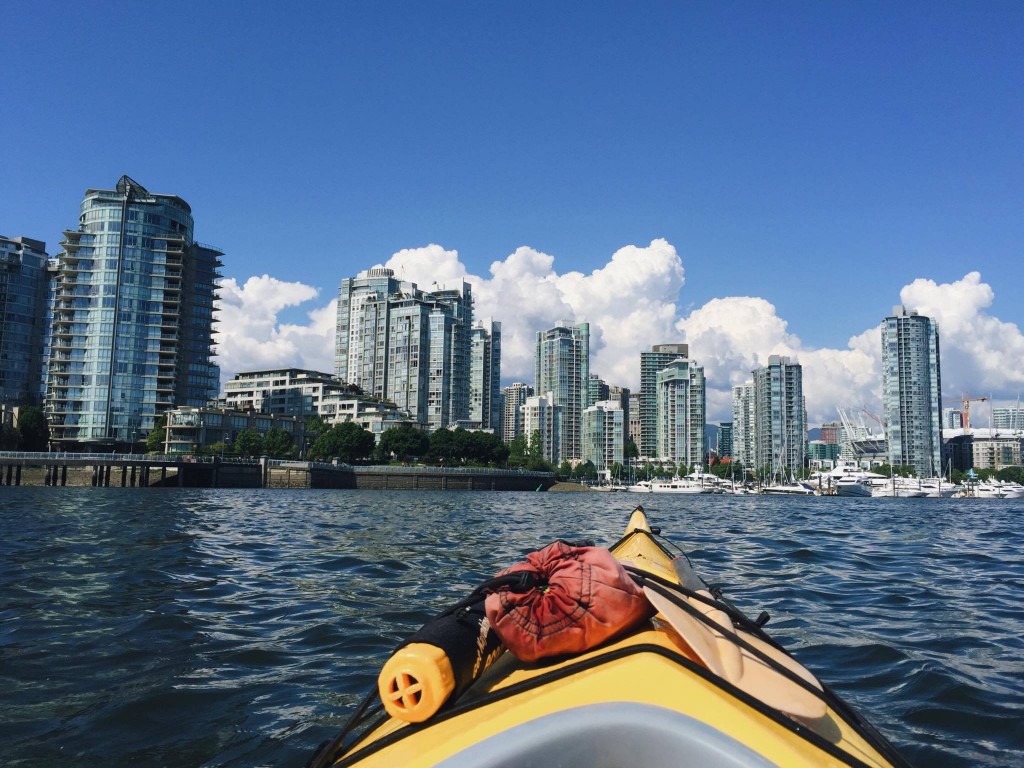 Week 8 & 9: Survey Responses and Factors of Influence (February 29 – March 11, 2016)
This week in class, we participated in a survey to select the top 5 words we associated with being a good a leader. I chose the words "caring, confident, intuitive, organized and sensitive". Throughout the tallying process, a student in class counted off how many people selected each word, and we calculated the percentage of students who voted for each word. For example 54% of students selected "analytical" as one of their top 5 choices. While the results were being read out, I had a tendency to doubt the answer I chose and reconsider the answers with the highest percentages. In terms of research, I feel like in group settings, such as focus groups, some participants might have their opinions influenced by others. This is why I find using a mixed-method approach useful. In our case, we are planning to use two different surveys, one a close-ended questionnaire and the other a more open-ended comprehensive survey. In addition we plan on leading focus groups at Skyline. I think that having the survey responses prior to our arrival will allow us to have a more individualized response from each student. But also, it will be interesting to see how the responses will change and progress further when we actually get the opportunity to meet the students, and put a face to the responses. We still haven't decided how we plan on splitting up the students, but Mike mentioned that students at Skyline have been categorized based on their social-emotional growth. We will take into consideration the multitude of different factors that shape each student, including gender, sexual orientation, race, age, personal interests, geographical location and many more.
Week 7: Drafting Mindful Surveys (February 22 – 26, 2016)
In week 7, our group began drafting two preliminary surveys that we plan to conduct prior to our arrival in Williams Lake. One of the difficulties of creating surveys for a demographic that is different from ourselves, as University students at UBC is ensuring the language we use is appropriate and comprehensible. For example, one of the struggles we had was wording the question surrounding race/ethnicity. It is quite a challenging question even for myself as a self-identified Chinese-Singaporean-Canadian. We tried our best to list a variety of different categories students could select from. In addition, the category of gender is often problematic, as someone might identify as Male, Female, LGBTQ, none-of-the-above, other etc. We tried our best to be as inclusive as possible, but I'm sure as the survey process proceeds onward, we will receive feedback from the students as how we can modify our surveys for the better. This week, we had three guest speakers that talked about their research working in and out of Indigenous communities. As researchers that will also be working with students from various backgrounds, including First Nations and Metis students, it will be extremely important that we are open and willing to listen and learn from them. Sometimes as University students, we have a tendency to distance ourselves from the peoples and issues that we study. I think it will be extremely important to come into the community of Williams lake with an open mind and not be afraid to have our existing knowledges and assumptions challenged.
Week 5 and 6: (Feb 1 – 12, 2016)
From Skop's reading she highlights that focus groups often provide researchers with surprising insights because conversations take on their own dynamic, and spontaneous group debates can reveal unexpected findings. I found this to be particularly true in regards to the focus group we conducted in class about the international community of students at UBC, as the presence of such different people, domestic and international students, parents, faculty, admin, and news reporter in the focus group seemed to generate quite a multi-directional conversation. I really appreciated how our focus group leader prompted the group with specific guiding questions that kept the discussion flowing, but also ensured that we didn't drift too far off topic. I think this will be a key step to remember when we conduct our own focus groups in Williams Lake with the students of Skyline Alternate High School. In terms of planning, we will need to decide what the most appropriate way we should divide students up to ensure safe and comfortable environments for everyone involved. One of the suggestions that Mike Franklin made was to consider their ongoing system they use to differentiate students based on their social-emotional growth, which is categorized into four levels (1-4).
Week 4: Participant Observation (January 25-29, 2016)
In week 4, we welcomed May Farrales to our class to learn about the work she has done as a geographer in the context of a Filipino-Canadian community. She shared her research question with us: "How do I make sense of the gendered racialized sexualities of Filipinos in Canada wrapped in more than one nationalist narrative?" This made me reflect on our own group's construction of a research question and how it is something that will constantly be growing and morphing as our research progresses in partnership with Skyline Alternate High School in Williams Lake. In regards to the video and pictures that Farrales presented to us where we played the role of observers with no prior knowledge of the event that was taking place, I found myself making assumptions and judgements towards a socio-cultural occasion that was foreign to me. This is, as Farralaes describes one of the dangers of representation, as it is so easy for us to misunderstand and reproduce misrepresentations of specific events, peoples, and communities. The position we hold as researchers is a powerful one, but also potentially violent, in the sense that we have the ability to invoke change involving people's attitudes, perceptions and realities of life. For example, this has been exemplified through the reproduction of stigma and knowledges regarding the homeless community in Vancouver's DTES. The on-going systemic violence these individuals faced as a result of dominant discourse that subjugates and isolates them, prevents these individuals from breaking free from this cycle of helplessness. It is always important, in any field of research to deconstruct dominant hegemonic representations of peoples to identify the diverse intersection of factors, such as language, ability, mental illness, addictions, sexual orientation, religion, educational attainment and many more. By identifying these areas we are able to see where individuals come from and draw a better understanding of their complex livelihood.
Week 3: Group Research, Tips and Tricks for Successful Group Work (Jan 19th – 22nd 2016)
In our third week I've definitely had the opportunity to consistently collaborate on our secondary research about SD 27 and Williams Lake with my team members. So far we have come up with a few potential research questions in regards to the alternative forms of schooling, and the First Nations community relations to the School District. In particular, I have learned about several programs dedicated to maintaining a strong cultural identity for Aboriginal students and preserving their Native language(s). However we are planning to discuss our findings with our community partner before making any major decisions and drafting a proposal. Nonetheless,  I am really thrilled with how accountable my group is, through our constant means of communication, and the endless support we seem to display for one another.
Here are some of the things I've learned to do in order to have a team that works well together and is successful:
1. Respect each other. It is definitely a key component of teamwork because every member should always feel like their opinion, their work, their emotions and feelings, are respected even if we may have differing beliefs, ideas, and work ethics.
2. Rely on each other. From the start, our professor and our classmates are people we should seek to learn from and grow with. If anyone ever felt like they needed help in any way possible, I would hope my team members would feel like they could reach out to us.
3. Give yourselves more time. It is important that we allocate more time than none to complete the work that needs to be done. For example, if something is due the following week, it would be a good idea to set deadlines before the final deadline to allocate time for editing and changes that need to be done beforehand. Even if it means meeting up a few hours before something is due to collectively read together a group paper.
There are of course several other contributing factors that lead to success when working in a team. Every team is different and has their own unique dynamic, with the highlights and the lowlights. It is important to never feel discouraged if things do not go "your way" but rather find ways to express how you feel to your group, and make sure there is an overall mutual understanding. I will be sure to reflect on my group throughout the term and like always, hope for the best!
Week 2: Community Based Learning and Positionality (Jan 11th – 15th 2016)
In the second week of class we listened to a presentation from UBC's Centre of Community Engaged Learning Officer Madeleine Meek. It was really encouraging to see how many services that are already in place to allow students the opportunity to expand their learning horizons throughout the community. I am privileged to have been able to take both GEOG 371 and GEOG 379, which are listed as CBEL courses for the 2015 and 2016 school year. Prior to Meek's presentation, I had heard briefly about Trek, Reading Week and International Service Learning programs but never really considered participating. This reading week, I have signed up through CBEL to volunteer at a local elementary school to facilitate science-related activities for students. I look forward to meeting and engaging with our community partner, the students of Williams Lake, and many others throughout the course of this term. I was also really interested in learning about the scholarships and grants available through CBEL for students who need funding for their research projects. I would definitely be open to the idea of furthering my research project if the opportunity came up in the near future.
This week we also addressed the term positionality in class, and brought the term to life through a few group activities. One of the activities we did was splitting up the class into two groups based on people's common and different personal traits, interests and other factors about them. It was important to recognize that each everyone in class all had similar attributes about them that connected us, as well as differences that set us apart. In terms of positionality, it is always important that we as researchers are self-aware about the factors such as gender, race, class, dis/abilities, sexuality, education, language, geographic location, that render us different from the people we work with. For example, when working with students in high school, how might the perceive us as a group of three UBC students from Vancouver? How might our status as university students create a sense of power in our relationship with the students? What are some ways that we could mitigate these potential feelings generated by this power imbalance? Perhaps we would have to give the students a better understanding of our own personal histories or even talking about our hobbies and interests to create reliability between the students and ourselves as researchers. We must consider the ways we can minimize the binary of "us" and "them" to create a more open environment for communication and work to be done.
Week 1: Introduction to the Class, My Peers, and the Indigenous Land We Occupy (Jan 4th – 8th 2016) 
In the first week of class I was extremely excited to meet my peers, as well as learn more about what GEOG 379 had in store for us. As someone who thoroughly enjoyed the research process required in GEOG 371, I had been eager to further my skills and knowledge as a researcher in this class. Since one of my favourite parts of the research process in my previous class was conducting semi-structured interviews, I was highly motivated to join this class because of its special weeklong period in Williams Lake, where students have the opportunity to conduct fieldwork through a more hands-on approach and interact with the people and their community.
The process of creating my top two choices was quite challenging. Initially I was set on picking the Cariboo Friendship Society. The reason being, I thought their causes aligned with my passion for social services, such as transitional houses for women and their children. However since I had already completed a similar project in the previous term about social housing and healthcare in Metro Vancouver, I decided to pick School District 27. I have always had a strong passion for working with children and youth. Therefore I believe I would make an appropriate candidate as a researcher working to improve the circumstances and overall well-being for students in Williams Lake, BC. Since I have a strong interest in pursuing a Bachelors of Education to become a secondary school teacher, I thought it would be beneficial to understand the complexities of the school system in BC.
When I was paired with my partners Cheng Yee and Angela, I could sense immediately that we were going to get along well and have a really meaningful experience working together. When we met up for the group walk from False Creek to China Creek, we began documenting our journey through photos. It was surprising to realize how even though we've lived in the Vancouver area for most of our lives; we had never trekked through these neighbourhoods before by foot. It was a truly eye-opening experience because we were able to witness the diversity in land use that exists just over a short span of a few kilometers. From the modern, redeveloped neighbourhood with dense high-rise apartments, towards a more trendy community of specialized services in unique middle-rise buildings, compounded with older single-story houses and low-rise apartments. As we made our way across Vancouver, I was left pondering about the environment that surrounded us, the unceded Indigenous territory that the city of Vancouver sits on, belonging to the xʷməθkʷəy̓əm (Musqueam), Skxwú7mesh (Squamish), Stó:lo and Tsleil-Waututh peoples. It really strikes me as a student at UBC to become more informed about the Indigenous land and their Peoples we borrow from. This will be a pertinent issue that I hope will remain at the forefront of my work with the community of Williams Lake.