Biographical Note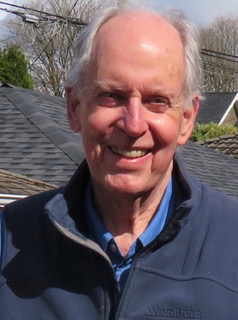 William H. New, OC, FRSC, is a literary critic, editor, anthologist, poet, and children's writer.
Born: Vancouver, British Columbia, 1938.  Married, two children.
Education: B.Ed., Geography and English (1961), University of British Columbia; M.A., English (1963), University of British Columbia; Ph.D., English (1966) University of Leeds, dissertation on the twentieth-century Bildungsroman.
Teaching career: English Department, University of British Columbia (1965-2003), with specialization in Canadian and Commonwealth/Postcolonial Literatures; named University Killam Professor in 2001; Brenda and David McLean Chair in Canadian Studies, UBC (1995-97); current position: University Killam Professor Emeritus.
Contact: wnew@mail.ubc.ca
Invited lectureships include: MacDonald-Currie Lecturer (McGill University, 1990); Brooks Lecturer (University of Queensland, 1990); Visiting Professor (Nankai University, 1998); U Ottawa visiting professor (graduate seminars, 1993); France-Canada cultural exchange program (Agrégation lectures, 1982); Canadian lectures in India, sponsored by Dept of External Affairs (1977).
Editorial posts: Editor, Canadian Literature (1977-95; Asst/Assoc Editor 1966-77) [ see: http://www.canlit.ca/ ]; Advisory Board, New Canadian Library (1988-date); member of advisory or editorial boards of the Centre for Editing Early Canadian Texts project (1980 ff.), Canadian Encyclopedia (1980-83), Ariel (1981-88), Commonwealth (1983-2006), Klein Project (1989ff.), Smithsonian Institute Studies in Native American texts series, Twentieth Century Literature(l971ff.);  Assoc. Ed. for Canada, World Literature Written in English (MLA) (1971‑90); Australia and N.Z. Studies in Canada (1988ff), Short Story (1988-date), Journal of Caribbean Literatures(1995-date), Jianada Dipingxian (1995-date), Canadaria [Tenerife] (2007ff); History of the Book Project (2001-07).
Other (Academic): Assistant Dean, Faculty of Graduate Studies, UBC (1975-77); Associate, Clare Hall, Cambridge (1971)
Other (Community) activities include: jury, Governor General's Prize (1976-78, 1987-89 [chair, 1988]); jury, Commonwealth Writers' Prizes (1984-5 [chair], 1989, 1996); jury, Macdonald Prize (1995-97); Giller Prize jury (2002); Ethel Wilson Prize jury (2003); Charles Taylor Prize jury (2004-06); Council member, Vancouver Institute.
Published critical works include: studies of the modern postcolonial novel (Articulating West; Among Worlds), books about  space and place in literature (Land Sliding; Borderlands), books about the history, structure, and social contexts of short fiction (Dreams of Speech and Violence; Reading Mansfield and Metaphors of Form; Tropes and Territories), literary history (A History of Canadian Literature); reference works (Encyclopedia of Literature in Canada); studies of irony (Grandchild of Empire); and over 400 essays and reviews.
Creative works include: several volumes of poetry, among them Science Lessons; Stone/Rain;Riverbook & Ocean; Underwood Log (shortlisted for a Governor General's Award); YVR (City of Vancouver Book Award, 2012) and Touching Ecuador; and five books for children, among them Vanilla Gorilla and Dream Helmet (both illustrated by Vivian Bevis); and The Year I Was Grounded.
Anthologies include: Modern Stories in English (with H.J. Rosengarten); Active Voice and Literature in English (both with W.E. Messenger); Currents (with Kevin McNeilly, Noel Currie, and W.E. Messenger); Canadian Short Fiction; Inside the Poem; and Native Writers and Canadian Writing.
Awards and Prizes: Doctor of Science, honoris causa (2019); Mayor's Arts Award for the Literary Arts (2012); City of Vancouver Book Award (2012); Queen Elizabeth II Jubilee Medal (2012); Officer of the Order of Canada (2006), Fellow of the Royal Society of Canada (1986); Governor General's Award for International Canadian Studies (2004); Lorne Pierce Medal of the Royal Society of Canada (2004); CUFA (BC) Career Achievement Award (2001); Jacob Biely Research Prize (1994); Association of Canadian Studies Award of Merit (2000); Gabrielle Roy Prize (1989); Killam Teaching Prize (1996); Maxwell Cameron Medal (1961).