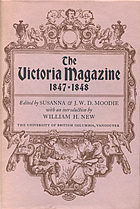 The Victoria Magazine 1847-1848
, ed. Susanna & J.W.D. Moodie. Introduction by William H. New. Rpt. Vancouver: University of British Columbia Library, 1968.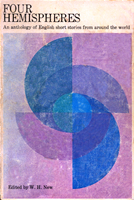 Four Hemispheres. Toronto: Copp Clark, 1971. One of the earliest anthologies to collect short stories from the Commonwealth. Organized by theme, the book includes stories by Mansfield, Ross, Munro, Ngugi, Lamming, Gallant, Gordimer, Jhabvala, Tutuola, Narayan, White, and 28 other writers.
Voice and Vision (with Jack Hodgins). Toronto: McClelland and Stewart, 1972. A school text, designed for junior high schools, which samples international English literatures.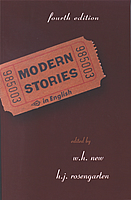 Modern Stories in English (with H.J. Rosengarten). New York: Crowell; and Toronto: Copp Clark, 1975; 2nd ed., Toronto: Copp Clark Pitman, 1986; New York and London: Longman, 1986; 3rd ed., Toronto: Copp Clark Pitman, 1991; 4th ed., Toronto: Addison-Wesley, 2001The 4th edition assembles 46 stories from Canada, the United States, the United Kingdom, Ireland, Australia, New Zealand, South Africa, Nigeria, Trinidad. Writers include Achebe, Atwood, Faulkner, Ford, Gallant, Gordimer, Jarman, Lahiri, Munro, Updike, Vonnegut and others. A brief commentary introduces each story.
Modern Canadian Essays. Toronto: Macmillan, 1976. A sampling of the essay genre in Canada, addressing a range of subjects and illustrating a variety of forms, from Leacock to Godfrey.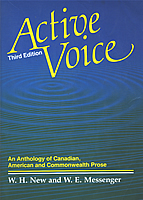 Active Voice (with W.E. Messenger). Toronto: Prentice‑Hall, 1980; 2nd ed., Toronto: Prentice‑Hall, 1986; 3rd ed., Scarborough: Prentice-Hall, 1991; alternate edition for schools, The Active Stylist. Scarborough, Ont.: Prentice‑Hall, 1981. A collection of well-written essays on a wide range of subjects, organized by the writers' rhetorical intention: to persuade, amuse, explain, describe, relate, inform, reveal—with introductions to each section. A further section called 'Choosing a Form' explores a range of unconventional options.
Canadian Writers in 1984. Vancouver: U of British Columbia Press, 1984. This 25th anniversary issue of the quarterly journal Canadian Literature, in book form, collects new works by 97 of Canada's foremost writers.
Century Anthology (with W.E. Messenger). Toronto: Prentice‑Hall, 1984; 2nd ed. (with Kevin McNeilly and Noel Currie), rev. as Currents. Scarborough: Prentice-Hall, 2000. A selection of 20th-century anglophone writings, across international boundaries, updated in the revised edition with an extensive and useful appendix on literary theory and strategies of reading.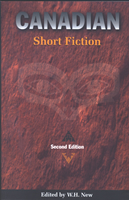 Canadian Short Fiction, from Myth to Modern. Toronto: Prentice‑Hall, 1986; 2nd ed., revised (with no subtitle) as Canadian Short Fiction. Scarborough: Prentice-Hall, 1997. A collection of 9 Inuit and First Nations tales (e.g., of Sedna, Raven, Nanaboozhoo, and Coyote) together with 55 additional stories and sketches, from Haliburton, Moodie, Traill, and Duncan to King, Mistry, Heighton, and Moore.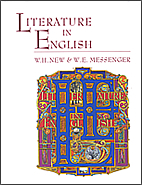 Literature in English
(with W.E. Messenger). Scarborough: Prentice-Hall, 1993. A survey anthology, from Old English poetry to contemporary Postcolonial writings, with notes, sampling a wide range of literary forms in both poetry and prose, and including both 'canonical' writers and non-traditional works (e.g., science writing, regional/dialect writing, and writing by women and ethnic minorities) across the centuries.