2005/06
Nutrikids was founded as a part of a project with the UBC Heart Club. With the help of ten volunteers, Nutrikids was piloted that year with two schools, Pacific Spirit Preschool, and Southlands Elementary School.
2006/07
Nutrikids expanded to seven Vancouver elementary schools and provided workshops to Lord Roberts Elementary, Queen Mary Elementary, Bayview Elementary, Maple Grove Elementary, False Creek Elementary, Southlands Elementary, Wolfe Elementary, and YMCA Community Centre.
2007/08/09
Finally in the program's third and fourth year, seventy volunteers participated in Nutrikids and we facilitated over 100 workshops in 15 schools combined.
2009/10
Each year we learn from our mistakes and grow with our successes. In 2009/10 we aimed to bring Nutrikids even closer to the community. We gained momentum towards our goal as evidenced by the positive feedback we received from teachers, parents, dietitians and community nurses. We had over one hundred and forty volunteers donating their time towards Nutrikids. What's more, we were happy to have Kin's Farm Market and COBS Bread as our sponsors.
2010/11
Our goals this year is to focus on the growth of the volunteers (and empower them to inspire the community). Kins and COBS will continue to support us in this endeavor.
"We firmly believe that Nutrikids is a benefit to university students, and urge any student interested in nutrition to join Nutrikids this year. Be part of the change we will make in our community. Thank you for supporting Nutrikids." – Tiffany, Jessica, Angela & Hana
2012/13
The organization was taken over by Fiona, Janet and Laurel and with the help of COBS and Kins continued to strengthen the volunteer and school base that comprises Nutrikids. A successful social in January 2013 helped to show Nutrikids' appreciation towards the volunteers! A "breakfast for dinner" cooking class was help and generous goodie bags from our sponsors were given to all participants.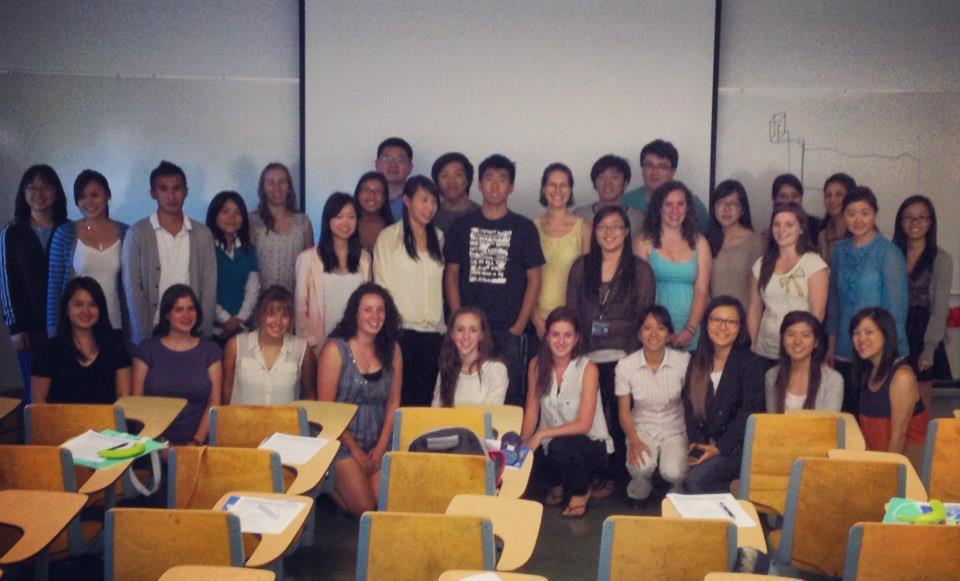 Our wonderful volunteers from 2012/13 Orientation Day.
2014/15
After her involvement with Nutrikids as an administrative coordinator, Fiona pursued her dietetic internship and we welcomed Alyssa as the new administrative coordinator. We were fortunate to have the support of our longstanding sponsorships, COBS and Kins to help bring fresh bread and produce into the classrooms. The Nutrikids volunteers visited 20 classes throughout Vancouver, delivering nutrition education workshops to elementary students.
2015/16
Thus far in 2015, Kaitlin pursued her dietetic internship and we have welcomed Janine as the new financial and website design coordinator. We continue to incorporate the LFS curriculum in the form of CBEL partnership which helps to sustain our faculty's culture of building community relationships. We are thrilled to welcome back COBS bread as one of our sponsors and announce our new sponsor for this year, our very own LFS faculty. The Nutrikids volunteers visited 15 classes throughout Vancouver, delivering nutrition education workshops to elementary students and we look forward to continuing into the spring semester!
2017/18
As Alyssa moved onto dietetic internship, Christina moved to medical school, and Poonam embarked exciting endeavours in Toronto, Nutrikids had a complete turnover with three new coordinators – a full switch! Nutrikids was excited to welcome Jennifer as the administrative coordinator, Megan as the financial coordinator, and Rachel as the resource coordinator. Granted it was a completely new team, there were some struggles as we all tried to learn our new roles. However, we worked graciously and had a very successful year, having almost 70 volunteers going to more than 25 classrooms!  
2018/19
Jennifer, Megan and Rachel remained on the team, adding the new role of social media coordinator. Lucy and Diala shared this role.
2019/20
Rachel and Diala both graduated from the Food, Nutrition and Health, and Megan moved onto dietetic internship. Jennifer became the President of Nutrikids, and Lucy became the marketing coordinator. Trista joined the team as the new resource coordinator, and Kyra became the new financial coordinator.