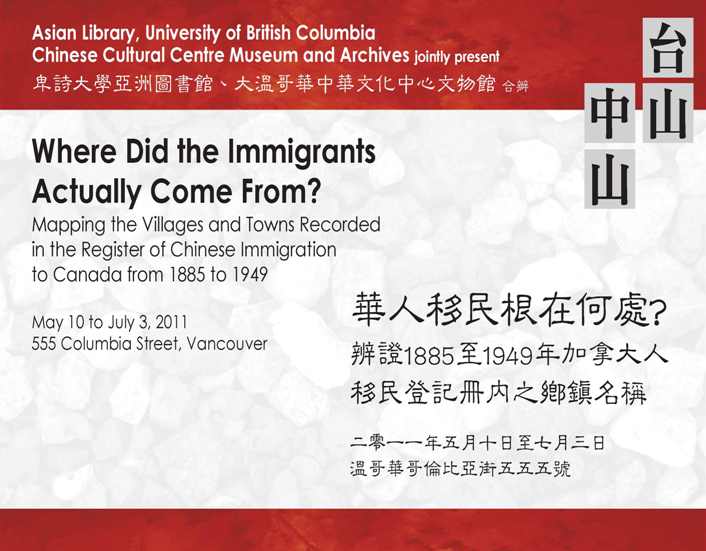 UBC Asian Library, in collaboration with the Chinese Cultural Centre Museum and Archives remounts the exhibit "Where Did the Immigrants Actually Come From?" This exhibit was first shown in the Asian Library in 2010 followed by a two-year project on mapping the villages and towns recorded in the Head Tax database.
The very idiosyncratic dialects of the immigrants from a myriad of villages and towns of southern Guangdong left behind a pool of sometimes indecipherable documentation of their roots. The inadequacies of custom personnel to accurately capture and document the villages and towns of origin in verbatim form culminated in a host of Romanized forms for reported places.  As a result, research based on the place of origin has been rendered fuzzy and inaccurate. Since 2008, Asian Library has organized 20 rounds of community-based meetings with Taishanese / Zhongshanese-speaking participants to match the towns and villages of origin reported by 90% of the immigrants with the original geographical names in Chinese scripts.
The exhibit is now on until July 3rd, Tuesday to Sunday daily 11am-5pm at the Chinese Culture Centre Museum in Chinatown (555 Columbia Street, Vancouver).
Click here for the detailed description of the project and the Head Tax database.