Group Exhibition of UBC 3rd Year Painting & 4th Year Art Theory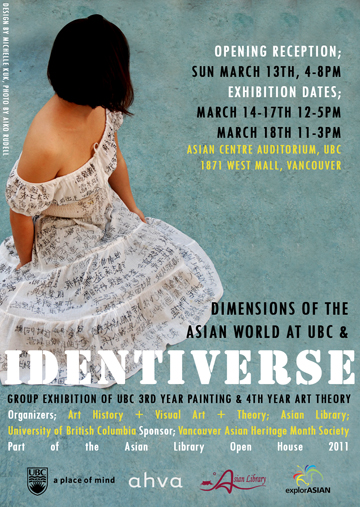 IDENTIVERSE was the exhibit shown between March 13 and 18, 2011 at the UBC Asian Centre Auditorium.  Part of the exhibit continues to be on display until mid-April on the upper floor of Asian Library.
Identiverse is a word that combines "identity" and "diversity".  This exhibition is a response to the MacLean's article "Too Asian", which focuses on stereotypes.  However this exhibition will explore the transitions and struggles of ethnic groups regarding their individual and cultural identities.  The identities of university students are also examined. The exhibition sheds light on current issues that surround politics of ethnicity and immigration, and presents us as members in the cultural mosaic of Canada.
News report from Sing Tao Daily (星島日報) (March 14, 2011)