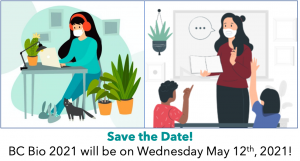 The planning for BC Bio 2021 is underway! The details are still being worked out, but we will be holding BC Bio 2021 on Wednesday, May 12th, 2021. It will most likely be 3h in the afternoon (Pacific Time Zone), but we are still working on confirming speakers.
Our current working title for the theme is "Looking Back to Move Forward – Evolving our Collective Teaching Practice"
Hope to see everyone there!