Monthly Archives:
April 2021
You are invited to BC Bio 2021: Looking Back to Move Forward – Evolving our Collective Teaching Practice. Wednesday May 12th, 1-4pm

We are pleased to announce that BC Bio is back for another year of community building at our virtual conference! Building on the success of last year's conference (120 attendees from across the province, country and continent!) we are once again hosting BC Bio as an a 3-hour, afternoon event. We are excited to have not one, but two wonderful plenary speakers for this event: Dr Diane Ebert-May (University Distinguished Professor, Michigan State University) and Dr. Fiona Rawle (Associate Professor of Teaching & Associate Dean of Undergraduate Biology, University of Toronto).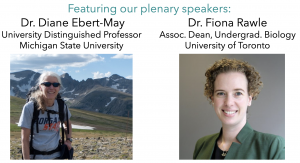 The format will be similar to last year, with a combination of excellent talks from our plenary speakers and breakout groups to allow for more direct community-building and discussion with our colleagues. Registration will open on April 26th, 2021. At that time we will also be looking for facilitators to help with breakout rooms. Registration will open on April 26th, 2021. The link will be posted on this website at that time.
While this is officially an event for BC Biology Educators, we welcome students, post-docs staff and faculty from across the globe who wish to attend. As always, it is our sincere wish to offer a relaxed and open atmosphere. Children, pets, houseplants, housemates and other folk that may not fit into the category of Biology Educator are also welcome to attend. Please join us for a BYO happy hour snack/ drink of your choosing. 
Looking forward to reconnecting with all of you one year later in this great experiment we've all been living!
Your BCBio 2021 organizers,