Embedding a Twitter Feed
You can embed a twitter feed – your own or a hashtag you like to follow – into your blog by creating a widget in twitter, copying and pasting the embed code here, into the 'text' field of your blog. You can also paste the embed code into the 'text widget' as I've done on the left of this blog (go to the dashboard, select widgets, find the text widget and drag it to your sidebar).
Below: Here's how the feed looks in your blog (you'll notice it's scrollable and allows viewers to tweet to you!)
Tweets by @yvonnedtechtalk
//
This Twitter blog has excellent instructions on how to do this. The screen shots below show the basic steps.
Step 1: Login to Twitter
Step 2: Go to your Profile and Settings drop down menu (center icon) and select 'settings'


Step 3: Select 'Widgets' (near the bottom of the list)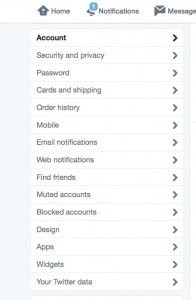 Step 4: Create New Widget (you can also edit previously created widgets)



Step 5: Click the blue 'create widget' button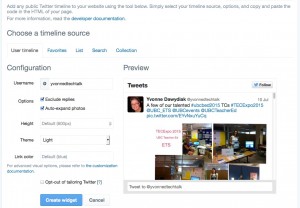 Step 6: copy the embed code (at the bottom of the feed) and click 'Save changes'


Step 7: paste the embed code into the 'text' editor of your blog page or post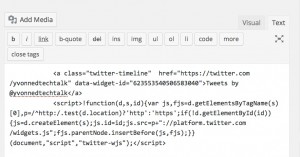 And that's it!
Save