Over 50 people gathered at the Liu Institute on Saturday, June 15, to kick off UBC's first ever boot camp for politicians. The event was a great launch to the Summer Institute for Future Legislators.
Folks started arriving even before we could get the building open at 8:30 am to begin registration. Even as we mingled over muffins and coffee we could feel a good vibe in the group. One of our participants, Victor Guerin, from the Musqueam First Nation, welcomed us with moving words. I made a few remarks, followed by Mike Harcourt, and we then did introductions all around. This gave us a sense of the range and diversity of the group. Mike asked how many people aspired to federal, provincial and local office, and it was immediately clear that most are looking at running locally and provincially. We formed three political parties (government, official opposition, and third parties), whose first task was to come up with names. The Action Party, Justice League, and Canadian Party for Change were chosen. A welcoming video from Preston Manning was then shown, followed by a discussion of the program and the expectations of the participants.
At lunch CTV's Jon Woodward showed up with a camera and began to interview some of the participants for a W5 documentary. Jon will follow them over the coming weeks to document how their thinking may evolve and what they take away from the experience. After lunch Stockwell Day gave a terrific talk about his experiences in the House of Commons – everything from question period to handling the media to personal challenges. He was lively and entertaining and offered some wise words of advice.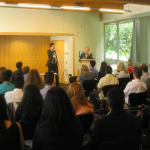 I appreciated his Tweet: "Totally impressed with turnout and quality of those at UBC Summer Series on Democracy. The future looks good with citizens like these."
After thanking Day, our participants were divided into three committees. They had to agree on basic rules of procedure and then discuss the role of the MP, reporting back to the larger group. The discussions provided a chance to practice some of the skills needed to reach consensus on substance and procedure as well as to get used to doing simulations, which we will do more of in the coming weeks. Gerry Baier and Campbell Sharman ran a tight ship with each event keeping rigorously to the time table. In all, we're off to a great start.
Next Saturday we meet in the Choi Building with Mike Harcourt, Preston Manning and Joy McPhail. Looking forward to learning more from the interactions between experienced practitioners and aspiring politicians.