It's easy to claim that home is a symbol. It's a word we've all heard and probably hope to feel some resemblance of at some point. In reading some of the blog posts it was nice to connect to so many of them and think "Hey, I do that too." This is especially impressive because home is an extremely personal thing, as many posts bravely showcased.
I found that the common threads in our definitions were stability, comfort and most of all – memories. Our sense of home is defined by what has happened to us, what we remember and what has brought us to where we are today. Whether that be finding that "it" feeling on stage in Stephanie's post, or discovering a rug in Morocco like Ashley that became part of her home, or Cam who relates his heritage to his sense of home; all of these posts I completely related to and their stories reminded me of some of my own memories that also helped build my own complex idea of home.
I see this all as sort of as a Lego House. Everyone builds their "home" slightly different (it may not even take the shape of a house), but you need more than one block and it takes time. After different stages of life and experiences, different parts form. I take care of kids who associate home with "bed", "parents", and "food", but those ideas will be added to and get more complicated as they get older. I remember when I thought home could only be one place, but once I moved for the first time I learned that that wasn't true and so my definition morphed to adapt to my experiences.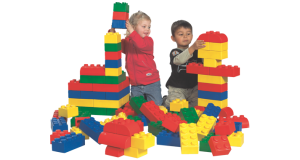 Obviously a lot of these memories (though not all) are made with loved ones (whether that be family, friend or anything in between) and I believe that that's something we can all relate to and be happy about. These are the people that I found provide the stability and comfort in our lives that so many of us associated with home.
I know that home isn't made by a specific combination of people and places, but I know mine is because of the memories of comfort, security and happiness that they provided me – especially the crazy stories my sisters and I share. While I love reading stories about people who create their own home based on their own rules and I read their stories with the same vigour as eating a tub of ice cream, but know that it isn't for me. Everyone has a different build than I do, but we can all relate to at least one block in that building and I think that's pretty cool.
---
Works Cited
Bullen, Cam. "2:2 Home." Web log post. Cam Bullen's ENGL 470 Blog. UBC WordPress, 6 June 2016. Web. 10 June 2016.
LEGO. Two kids build with large blocks. Digital image. Lego Education. LEGO, 2016. Web. 10 June 2016.
Mather, Katie. "28 Childhood Memories You Can Only Make If You Grew Up With Siblings." ThoughtCatalog. The Thought & Expression Co., 25 Aug. 2016. Web. 10 June 2016.
Michaud, Stefanie. "2:2 This Was My 8th Move in Less than 3 Years." Web log post. Summer2016course. UBC WordPress, 6 June 2016. Web. 10 June 2016.
Nicholson, Ashley. "2.2 Finding Home In Unlikely Places." Web log post. Ashley Nicholson's English 470A Blog. UBC WordPress, 6 June 2016. Web. 10 June 2016.
Willett, Megan. "A California Couple Built This Portable 'Tiny House' For $30,000." Business Insider: Life. The Business Insider, 31 Mar. 2014. Web. 10 June 2016.