Clickbait is a major problem in communicating science to the public online.
Popular websites like I Fucking Love Science or Science Daily get tens of millions of views monthly.
Most of these views come from Facebook and other social media that summarize the originals and link to them, creating a market for click-through rates. This has led the pop science blogs to increase boisterous claims in their headlines. Here are a few examples of the most popular clickbait titles last year (which you have probably seen):
These titles are misleading for their content. Most of the articles, while brief, are not necessarily inaccurate; they also link to in-depth articles that give a more accurate and nuanced approach.
So, who cares right? As long as people read the articles, they are okay. But apparently only 30% of people actually read scientific articles before commenting on social media.
"We need to install solar energy on all our houses immediately!" he said without reading that the peak at half the German population was a one-time daily record. (image from Pixabay, no attribution required)
Clickbait was recently addressed in a paper by Nathan Hurst at the University of Missouri-Columbia. He studied the effects of clickbait titles on credibility issues regarding the science, article, and aggregator. He realized that titles that relied on clickbait methods (lists, puns, intensity, etc) had a negative effect on the credibility given to all sources.
By making the titles more eye-catching, authors were actually decreasing the perceived validity of their own work, and that of the scientific basis.
This can lead not only to people being mislead to believe something inaccurate, but also to what I call the "Water on Mars" effect. How many news articles have you seen where scientists have apparently discovered water on Mars? Here's one from 2012, and another from the exact same author and source claiming the same finding three years later.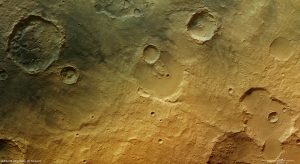 Live from the first ocean found on Mars (image from ESA/DLR/FU Berlin, Flickr Creative Commons)
This has led to mass confusion about the facts. I asked a few of my friends this week whether we've actually found water on Mars, and most immediately said yes. When I asked whether we actually found it or found evidence for its existence, they were more hazy. When (if) we actually find a cup of martian water, the public won't be interested anymore due to saturation.
Similarly, misleading titles can create seemingly conflicting findings by conflating articles to their extreme results. This has had a major effect in the area of climate change, for example is the plankton population decreasing or increasing due to climate change?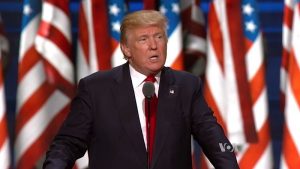 "You are fake news." (image from Voice of America, Wikimedia Commons)
It is important to present some nuance in titles or not to present a broad conclusion at all.
This effect is even happening in scientific literature according to a study published by Dr. Gwilym Lockwood at the Max Planck Institute for Psycholinguistics. She found that "article titles with result-oriented positive framing and more interesting phrasing […] get more online attention."
This suggests that the same factors that affect how widely non-scholarly content is shared extend even to academia.
Here's John Oliver from Last Week Tonight (HBO, redistributed on YouTube) with jokes about the subject.
– Braydan Pastucha