Tesia Derksen-Bergen
Born in Kansas, but raised in Abbotsford, British Columbia, Tesia grew up with a love for animals and a deep curiosity about the world after hearing her parents' stories of growing up and living in other countries. She completed her BA in Human Geography and her BEd in Secondary Social Studies at UBC. She went on to become a secondary school Social Studies and English teacher in Langley, BC. The daily experience of working with students brought up questions of how young people develop their own identities and sense of belonging in Canada. She is now a first year MA student interested in how multicultural curricula in schools affects young peoples' perceptions of themselves and others, and the ways these perceptions impact intercultural relations among peers. When Tesia is not studying, she can be found cooking gourmet vegetarian meals and running along the beach. She can be contacted at tesiadb (at) gmail.com.
---
Sarah M Przedpelska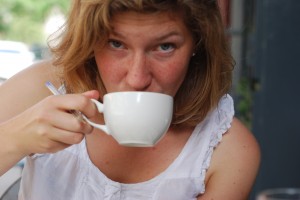 COMPLETED 2015
Sarah is a second year MA student with interests in migration, social and feminist geographies. Being a third culture kid, she's lived in several places around the globe, creating a curiosity and a will to understand the constantly changing difference in society that occurs when people cross borders for work, for family or from persecution. Under Dan Hiebert's supervision, Sarah's research examines the intersection of immigration and politics, with emphasis on citizenship, immigrants' political and civic participation and sense of responsibility, and state policies of multiculturalism and integration.
Sarah grew up in Oslo. She completed her BA at the University of Oslo and at UC Berkeley, with a stint in Pondicherry, India. Though she is a grad student by day, she doubles as a movie-goer, baker and travel planner
by night. She doesn't normally write about herself in the third person, so please contact her at:
sarah (dot) mathisen (at) gmail.com for more information.
---
Shambhavi Srivastava COMPLETED 2014

Shambhavi Srivastava is a second year Master's student writing her thesis on Sikh youth identities in Vancouver. She moved to Vancouver from Delhi two years ago and was struck by the strong and varied transnational associations of different communities with their "home countries". Engaging with the people from the Sikh community here in Vancouver, especially the youth has provided insights on the interlinkages between the history of racism, the ongoing political tensions in Punjab (India), and the conflicting experiences of affiliation and belonging in Vancouver. She is  fascinated by how pasts are remembered by people and its interlinkage with their identities.  It is complex web  between the past and the present of specifically the Sikh community in Vancouver that she wishes to theorize on in her thesis.
Please contact Shambhavi at: shambhavi (dot) srivastava88 (at) gmail.com for more information.
---
Molly Kraft COMPLETED 2012
Molly is a first year MA student with a great love for urban and social geography. Growing up in Toronto she found herself immersed in a diverse and exciting area that constantly challenged her to think about the people she was surrounded with and the various places they inhabited. In 2005 she moved to Vancouver to study geography at the University of British Columbia where she completed her BA. It was here that Molly became passionate about how the specificities of place work to inform conceptions of identity. Throughout her degree, her research focused on the concepts of belonging and nationhood, especially as they intersect with the complexities of gender, ethnicity and class relations. She is greatly informed by the work of feminist geographies of difference -positionality, distance, and separation- and plans to include this in her work. Returning for her MA and under Dan Hiebert's supervision, Molly hopes to address the ways in which Canadian national identity becomes articulated and understood through the idealized claims purported by immigration and multicultural policies. Specifically, she hopes to examine the gap between these policy ideals and the reality immigrants face in their daily lives.
---
Katie McCallum COMPLETED 2008
Raised in British Columbia, Katie spent summers traveling with her father throughout her home province.  She later moved into Vancouver to attend UBC, where she completed her BA in Geography in 2004.  After two years of seeing the big and small cities of Canada, France and Eastern Europe, she returned back to UBC in 2006 and began a Geography Masters degree with Dan Hiebert's supervision.  Katie's academic interests include immigration, rural geographies, and representations of place. Her research takes her to Northern BC, where she benefits from close work with the Geography Department at UNBC and the staff of the Immigrant and Multicultural Services Society in Prince George.  Katie has a love for local histories and visual arts, a love that nearly led her to graduate work in museum studies.  The will to help others, however, and a strong taste for geographic thought kept her here in a familiar place, studying the meaning of integration, home and place for newcomers. Please contact her at katflora (at) interchange (dot) ubc (dot) ca for more information.
---
After escaping from a small town in the interior of BC, Jenny spent 11 years traveling and working in Africa, Asia, Australia and Europe. When she returned to Canada in 2001 she began studying at university in an attempt to make sense of some of the many things she'd seen and experienced but not understood. Thus she completed a BA in History at UBC in 2006 and is now a first year MA student in Human Geography. Under Dan Hiebert's supervision, Jenny will carry out a participatory action research project with African immigrants/refugees around their experiences of housing and homelessness in Vancouver with a key aim of the project being that the research produced directly benefit the African immigrants who help make it.  When she's not studying or volunteering for local anti-racist, anti-poverty non-profit organizations you might find her cycling, swimming, doing origami, camping, hanging out with friends, or playing with the two cats who share her East Vancouver apartment. Please contact her at jenois (at) telus (dot) net for more information.