Category —
3.2 The "N" Professionals
Nurses provide much of the day-to-day care in hospitals, closely monitoring a patient's condition and performing vital jobs like giving medicine (Fig. 1 and 2). Nurses are graduate health professionals who often specialize at a master's level.
Figure 1. A paediatric nurse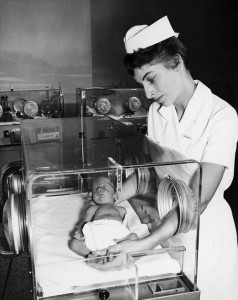 Figure 2. A nurse with a newborn
Practice
Many different kinds of nurses provide varying levels of care:
Licensed practical nurse (LPN): LPNs provide basic care and assistance to patients with tasks like bathing, changing wound dressings, and taking vital signs. An LPN has at least 1 year of training in this kind of care.
Registered nurse (RN): A registered nurse gives medication, performs small procedures such as drawing blood, and closely follows a child's condition. RNs have graduated from a nursing program and have a state license.
Advanced practice nurses (APN): An advanced practice nurse is an RN who has received advanced training beyond nursing school. At minimum, APNs have a college degree and a master's degree in nursing. Different kinds of APNs include:
Nurse practitioner (NP): A nurse practitioner has additional training in a particular area, such as family practice or pediatrics. NPs often take the medical history, do the initial physical exam, perform some tests and procedures, write prescriptions, and treat minor illnesses and injuries. NPs have a master's degree, board certification in their specialty, and a state license.
Certified nurse midwife (CNM): A certified nurse midwife provides gynecological care and obstetrics care for low-risk pregnancies. CNMs attend births in hospitals, birth centers, and homes.
Clinical nurse specialist (CNS): A clinical nurse specialist provides a wide range of care in hospitals, clinics, nursing homes, private offices, and community health centers. A CNS has been licensed in nursing, has a master's degree, and often works in administration, education, or research. Nurse Clinician or Clinical Nurse Specialist works on inter-professional teams in a pediatric hospital. e.g BC Children's Hospital or Sunny Hill Health Centre for Children (affiliated with BC Children's Hospital).
Certified registered nurse anesthetist (CRNA): CRNAs specialize in giving and monitoring anesthesia. They prepare patients before procedures, administer anesthesia, and oversee recovery from anesthesia. CRNAs receive 2 to 3 years of training in this area.
January 29, 2012 No Comments
A neurologist is a physician who has specialized training dealing with conditions and diseases related to the nervous system (Fig. 1). Conditions that may impair functions in the nervous system may impact the brain, spinal cord, peripheral nerves, muscles, and autonomic nervous system, as well as the blood vessels that relate to these structures.
Figure 1. Nervous system
Practice
Neurologists (Fig. 2) work with other medical specialists, like nurses, family physicians and pediatricians, as well as with non-medical (non MDs) professionals in the health sciences like radiologists, lab technicians and others.
Figure 2. Neurologist
January 29, 2012 No Comments