By: Brad Sampson
Did you try and buy a N95 rated face mask last weekend? You may have been out of luck. Following the outbreak of COVID-19 in January, there has been a worldwide shortage of these masks. N95 masks are rated to filter out 95% of particles from the air and are used primarily in medicine.
Seriously people- STOP BUYING MASKS!

They are NOT effective in preventing general public from catching #Coronavirus, but if healthcare providers can't get them to care for sick patients, it puts them and our communities at risk!
https://t.co/UxZRwxxKL9

— U.S. Surgeon General (@Surgeon_General) February 29, 2020
On February 29th, the U.S. Surgeon General Jerome Adams tweeted, "Seriously people — STOP BUYING MASKS!". Dr. Jocelyn Srigley, a medical microbiologist, stationed at B.C. Children's Hospital, echoed the sentiment, "The general public absolutely should NOT wear N95 masks". As of March 1st, every major retailer in Kelowna appears to be sold out of masks.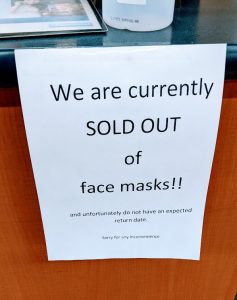 There is still one place in which consumers can still purchase the masks. Facebook Marketplace. A quick search reveals hundreds of medical masks being resold at exorbitant prices. Most of these posts appear to be coming from the Lower Mainland.
Paul from Cooper Medical Supplies stated that the company has sold "seven years worth of masks in January and February". However, after they became aware that masks were being resold, the company quickly implemented a limit on the number of masks an individual can buy.
The reselling of medical masks is not simply a local phenomenon. In the early stages of the outbreak, several marketplace websites in China had similar ads. In February, the most popular Chinese online marketplaces set a maximum price for the masks. Amazon implemented similar policies that discourage the reselling of masks both within the U.S. and internationally. We attempted to reach out to Facebook to inquire as to whether they are going to implement similar policies, but we have yet to receive a response back.
The high demand for masks gives the impression that the masks are a good form of protection against the virus. However, Dr. Michael Curry—a Doctor of Emergency Medicine based in Delta B.C.—is not so sure of that fact. As a preface, Dr. Curry suggested that much of the data we have on COVID-19 is only a couple of months old, "…so much of what we know is based on preliminary and incomplete data.". But, based on this research, COVID-19 is not an airborne virus. Instead, COVID-19 is spread by the "droplet route," meaning it is spread through sneezing and coughing.
According to Dr. Srigley, masks could even increase the risk of the public "…due to people touching their face more often". She recommends "Hand cleaning with soap and water or hand sanitizer" as the best line of defense.