"If Europeans were not from the land of the dead, or the sky, alternative explanations which were consistent with indigenous cosmologies quickly developed" ("First Contact" 43). Robinson gives us one of those alternative explanations in his stories about how Coyote's twin brother stole the "written document" and when he denied stealing the paper, he was "banished to a distant land across a large body of water" (9). We are going to return to this story, but for now – what is your first response to this story? In context with our course theme of investigating intersections where story and literature meet, what do you make of this stolen piece of paper? This is an open-ended question and you should feel free to explore your first thoughts.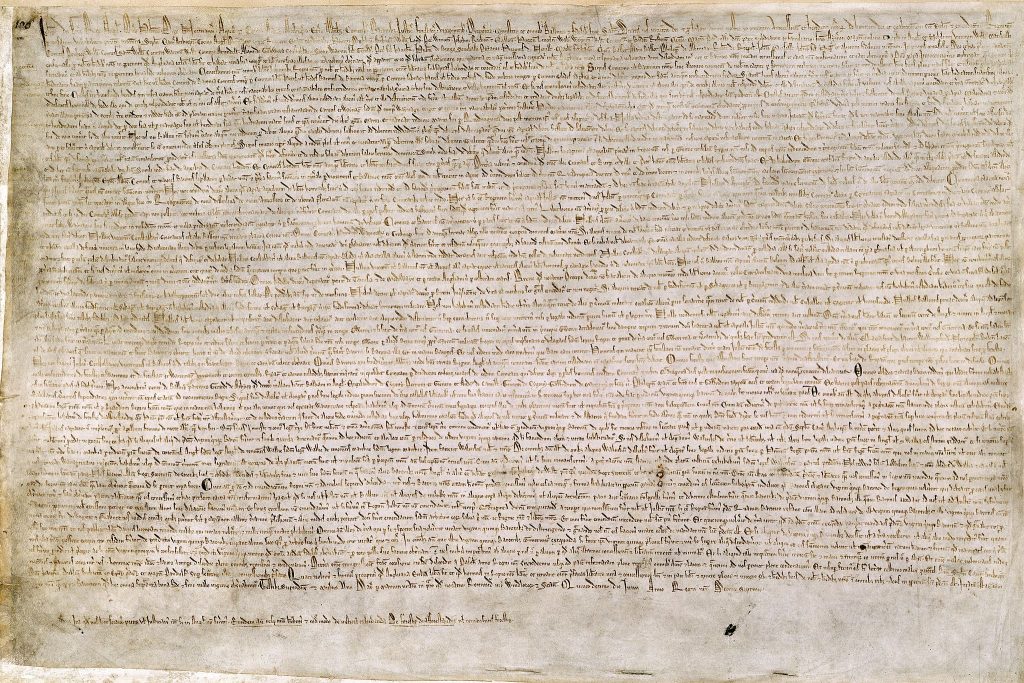 (The barons and King John of England.  Wiki Commons Licence.)
Listening to and reading stories are enjoyable to inquisitive minds.  Especially when such stories present new possibilities and new worlds.  Some contact stories in North America can be read as a role reversal.  The Europeans arrive with their scientific achievements, expectations, and preconceptions, knowing exactly what they will encounter (Lutz 3).  On the other hand, First Nation narratives, while they do not travel as far, are not passive; they can be fluid and adaptive.
The Coyote story is rich in many folds.  At first there is a striking similarity to a European narrative: an entity is given a sole command by a higher power, disobeys it, and faces consequences.  Is this story a product of cultural interaction, or is this a common theme in most human societies?  The tendency of humanity to have something good and then manages to screw it up entirely?  That the world is perfect but not immutable?
The storyteller then takes us rosier grounds for a bit.  Though banished, the children of the younger brother will one day return as family.  There, foreknowledge and forgiveness.  The sinner finally comes home.  But where is the redemption?  Turns out the evil brother's descendants will behave badly and there is a dispute over the piece of paper.  Uh, paper!  Laws, titles, "civilization".
Are all important things ought to be on paper?  We have looked into orality in a previous section, and here it is again.  In this story the importance of paper is somewhat recognized, ironically, in spoken story.  That piece of paper remain important in the plot.  Nevertheless, the children of the righteous brother are now entitled to laws against the children of the evil brother.  The Coyote will visit England and strike a deal with their monarch.  This crux is another role reversal – European settlers being subject to the laws of the First Nations.  The laws of those expecting from the shore not "the other", but rather family coming home.
My first response to the story is how relevant it is.  It touches on historical wrongs, politics, and First Nation rights.  The story does not live in a frozen, prehistoric past; it is definitely not "cold" (Wickwire 22).  The story is clever like a coyote and hard to decipher – put down our European-influenced lens and see an exact mirror image.  Dig in deeper and we will see a fixation, which is land.  European law tends to govern the law as to who may possess, occupy, and benefit from it.  If a certain people have fostered strong ties with the animals, the water, and the land: their perspective would be quite different.  They are with the land, but they do not govern it.   They have not industrialized.  That is, taking more than one can reasonably need, and feeling awfully good about the commercial gains.  Rather they live with, understand, and try to be at harmony with it.  The laws are from the land to the peoples, not vice versa.
What is your take?  I really look forward to your feedback.
Works Cited
Burgesse, Michael.  Illustration for Book 12 of Paradise Lost.   Christ College, University of Cambridge, 3 Feb. 2014.  Web.  15 Jun. 2016.
Lutz, John.  "Introduction."  Contact Over and Over Again." Myth and Memory: Rethinking Stories of Indigenous- European Contact.  Vancouver: U of British Columbia P, 2007.  Web.  13 Jun. 2016.
"Part II: Right of The Aboriginal Peoples of Canada."  Constitution Acts, 1867 to 1982.  Department of Justice, Government of Canada, 3 Jun. 2016.  Web.  15 Jun. 2016.
Wickwire, Wendy.  "Introduction."  Living by Stories: a Journey of Landscape and Memory.  Harry Robinson. Vancouver: Talonbooks, 2005.  Print.