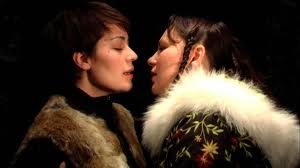 Tanya Tagaq and Cellina Kalluk throat singing
In Inuktitut, throat singing is called katajjaq, pirkusirtuk or nipaquhiit depending on the Canadian Arctic region. I was intrigued the first time I heard traditional, Arctic throat singing  – likely on CBC Radio One. It seemed a music form in and of the past until I heard about Tanya Tagaq collaborating with Bjork.
From a little listening, reading and watching online I have learned more about the history of this music, how young people are being attracted to it, and the struggle between elders wishing to preserve the traditional throat songs and the young who want to make the singing relevant to their lives.
To learn more, I recommend the following links:
"Throat singing gets a modern twist." CBC audio broadcast (March 17, 2002). Hear young musicians blend traditional throat singing with other musical styles like rock and pop and rap.
http://archives.cbc.ca/sports/more_sports/clips/6667/
"Preserving the sounds of the Arctic tundra: Throat singing" (2005). An article about the resurgence of throat singing.
http://www.canada.com/topics/travel/canada/NU/story.html?id=f8a3117b-1208-4e86-a161-22f39475003b&k=26505
Tanya Tagaq – Tanya explains and demonstrates throat singing. Video, 3 min.
https://www.youtube.com/watch?v=Phr1HVwrjlQ
Tanya Tagaq and her cousin Cellina Kalluk – This site has written information and links to audio and videos.
http://thepuredrop.com.au/artists/tagaq.htm
"A string quartet in her throat." Collaboration of Kronos Quartet and Tanya Tagaq. Video, 7 min., 2006. Tanya says this work fulfilled her dream to "interpret her home through musicians."
https://www.youtube.com/watch?v=0YTtUolJa9E&NR=1
Kathy Keknek and Janet Aglukkaq – Application for traditional performer at 2008 Arctic Games. Video, 6 min, 2007.
November 19, 2010 No Comments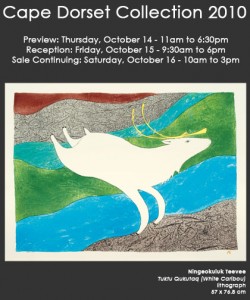 Since the 1950s, Cape Dorset or Kinngait, the "Capital of Inuit Art" has been a centre for drawing, printmaking and carving. Today, printmaking and carving are the community's main economic activities. But some older artists along with younger ones are creating art of a different nature, art that is less known and less valued in southern Canada – art that reflects the artists' changing social and environmental context. The video "The New Raw" focuses on this situation.
The New Raw
Video 11 min. Radio Canada International (RCI)
Interviews with Cape Dorset artists and footage of their art inform the viewer of the diversity of northern art. The viewer hears that southern Canadian art lovers still seek and maintain the demand for Arctic art with traditional images – the animals of Inuit legends – but there is a growing number of Cape Dorset artists who produce art reflecting the social and environmental change of their day-to-day realities.
http://eyeonthearctic.rcinet.ca/en/video/video-categories/viewvideo/59/art-and-culture/the-new-raw
See also these RCI videos:
The Rebel – Jutai-Toonoo, 26 min.
http://eyeonthearctic.rcinet.ca/en/video/viewvideo/60/art-and-culture/the-rebel-jutai-toonoo
The Up-And-Comer – Ningeokuluk Teevee, 8 min.
http://eyeonthearctic.rcinet.ca/en/video/viewvideo/64/art-and-culture/the-up-and-comer-ningeokuluk-teevee
The Carver – Toonoo Sharky, 8 min.
http://eyeonthearctic.rcinet.ca/en/video/viewvideo/61/art-and-culture/the-carver-toonoo-sharky
The Printer – Niveaksie Quvianaqtuliaq, 7 min.
http://eyeonthearctic.rcinet.ca/en/video/viewvideo/62/art-and-culture/the-printer-niveaksie-quvianaqtuliaq
Note: In this video we see the making of the print of  "Stiletto," an example of a more modern stone cut art piece by Kavavaow Mannomee.
November 19, 2010 No Comments