Do I Know You? was held in the FINA Gallery from September 19 to 29, 2022 and features fine arts alumni from the Public Art Collection at UBC Okanagan. This exhibition is hosted by the Faculty of Creative and Critical Studies (FCCS) in collaboration with UBC Okanagan Gallery, and alumni UBC as part of Homecoming 2022 at UBC Okanagan.
Do I Know You? explores the concept of a first impression and public personas through eight figurative and portrait artworks by UBC Okanagan fine arts alumni. Viewers are encouraged to examine works spanning photography, painting and drawing and ask themselves the questions: who exactly do you see?
The exhibition includes works of eight Bachelor of Fine Arts alumni including Jenny Long (BFA'03), Cherie Stocken (BFA'06), Christina Knittel (BFA'06), Tia-Maria Soroskie (BFA'03), Cory Dixon (BFA'10), Emily Geen (BFA'12), Hanss Lujan (BFA'12), and Laura Widmer (BFA'12).
This exhibition was curated by UBC Okanagan Gallery Curatorial Assistant Ryan Trafananko, and FCCS Communications Specialist Shauna Oddleifson, and is sponsored by alumni UBC.
In his 1956 book The Presentation of Self in Everyday Life, sociologist Erving Goffman likens our social interactions to a theatre performance. When an individual encounters another person, they will attempt to control or guide the impression that others might make of them by changing their appearance and manner. At the same time, the other person tries to form and obtain information about the individual.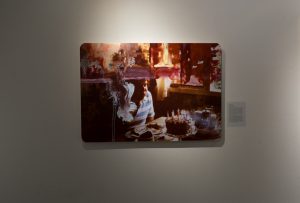 In everyday life, like theatre, we present differently whether we are in public or private and this concept of our inner and outer selves can also be applied to visual art. When we view an artwork we bring to it our attitudes and judgements, trying to obtain information as we would a face to face interaction with another person.
In particular, figurative and portrait works invite us to make impressions and assumptions about who and what we see. When confronted with the human form, whether a body or a face, we imagine who that person in the image is and how we would interact with them. Internally, we wonder who they are, what their name is, how we know them? Yet despite our attempts at gathering information, we can only ascertain so much from the external. Do I Know You? invites the viewer to explore eight figurative and portrait works by UBC Okanagan alumni, asking the question: who exactly do you see?