SITELINES
FINA Gallery
Faculty of Creative and Critical Studies
The University of British Columbia, Okanagan Campus
November 17 – 22, 2019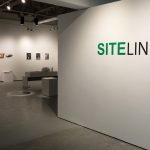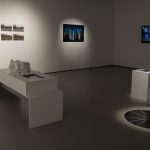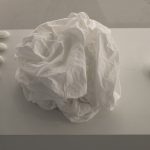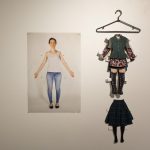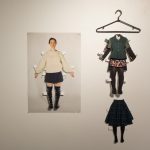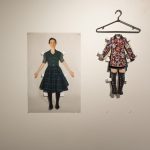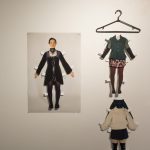 Aiden de Vin
It's Bedtime
I've always been intrigued by the way that domestic space has had the ability to allow us transcend reality, to daydream and become lost in our minds. In thinking about my home, Gaston Bachelard's writing; The Poetics of Space inspired me to think about my home in a new way. Bachelard writes that "the house shelters daydreaming, the house protects the dreamer, the house allows one to dream in peace" (6). As a child, my home was a safe place for me to dream and often this dreaming came at night, during quiet moments when the business of life had slowed and all that was left was the glow of lights coming from bedrooms bringing comfort andstillness.
This project It's Bedtime addresses this connection to my home through an image of the inside of the place I grew up, illuminated by soft glowing lights that have been left on after everyone has gone to bed. The window itself belongs to my childhood home, connecting the materiality of the work to the site of inspiration. The imagery suggests a sort of dreaming, of entering a space where something almost magical could happen as the glow from of the lights suggest another world beyond where to viewer is positioned in the space. As a child I would dwell on these moments of stillness, allowing my mind to wander through the imaginary places that existed within the walls I grew up.
Works Cited
Bachelard, Gaston. The Poetics of Space. Boston: Beacon Press, 1969. Print.
Tiffany Douglas
Reclaiming
With this project I would like to bring natural aspects to an urban setting. This specific building is seen clearly from Highway 97 and is fairly unsightly. The site is a direct reflection of the City of Kelowna to any traveler passing through. I want to add projections of plants to the face of this building that are Indigenous to Kelowna as a way to reclaim the urbanized community. In this particular example I have used Snowberry plants to allude to a "living wall" on top of the concrete face of the building. The Snowberry plant, scientifically known as the "symphoricarpos albus," is a plant native to Kelowna. It's multi-seasonal lifespan and drought tolerance is a perfect embodiment of Kelowna. The purpose of this idea is to show how nature is reclaiming its space in an urban setting. The use of Indigenous species add to the reclamation of the space.
Dillon Eichhorst
Degeneration
Degeneration speaks to the future of our landscapes and forests with changing climates and ecosystems. This piece was created by with a projector and a generator in the middle of the woods here in the Okanagan. I projected an image of a desert landscape onto these trees. The resulting image comments on climate issues while playing with light and color. If we don't do anything about our current climate situation this very well could be the fate of our forests. Aesthetically, Degeneration was deeply inspired by Kevin Schmidt's Fog which I saw at a young age in the Vancouver Art Gallery. Schmidt's piece was a lightbox image of a foggy forest that stood alone in a large dark space, lighting which I tried to emulate with the gallery lighting.
Kevin Schmidt has been a huge inspiration for my art practice. My goal with this piece was to expand upon my work with night photography, while introducing artificial light and color to the scene.
Bailey Ennig
Luminosity
Ben Lee Park has received a bad reputation over the past 20 years. It is commonly known as a dangerous part of the Rutland area as it attracts several people that could be misunderstood to be dangerous. It does not help that some parts of the park can become uncomfortably dark during the late evening. Contrary to this notion, it is truly a safe space. Luminosity sets out to rebrand Ben Lee Park by fostering community building. A campfire conjures fond memories of sitting with friends, staying warm, and sharing in good conversations. This sitespecific installation aims to recapture that feeling and embedding it into this urban park space. The intention of
Luminosity is to foster a third space for people in the neighbourhood to gather, share, and enjoy each other's company. Luminosity proposes a site-specific installation that resembles a well-crafted stone fire pit with accompanying sounds. The installation is not intended for a real fire, but only simulates the effect. This will be done through a lighting setup within the installation to simulate the flickering of a camp fire. In terms of the sounds design, speakers would be installed within the installation as well to play the sounds of a night time soundscape with accompanying campfire sounds. The whole work models the look and sound of a campfire without the hazards that accompany fire. The lights and sound will be scheduled to run from sunset to sunrise.
Vanessa Mercedes Figueroa
Lavandería
Sex and emotional labour are both forms of invisible labour or unpaid labour which a woman puts forward to the world. When considering how many women have felt obliged to satisfy or prove themselves worthy a man or compared to a man, this does not just apply to sex, but also to emotional labour, and the labour within the institution. When most institutional settings undervalue womanly labour to a mans practice, this becomes problematic.
The exclusion of women from paid or acknowledged labour become synonymous with feminine qualities of invisible labour which can include nurturance, docility and eagerness to please. When all these associations and connotations become synonymous with womanly labour and then that of being a woman, it becomes increasingly more difficult to be taken serious within the institution.
For this piece I intend to explore sex as womanly labour, juxtaposing the domestic to the institution, as the expectation of the woman as an object of desire in the home parallels the woman as an object of desire in the institution. In this performance, I have hand washed white sheets, scrubbing for four hours straight, symbolically "washing away" "sexuality and sin", making a domestic and laborious effort to disconnect oneself from the sexual/gendered connotations which restrict women entering the institution. This piece is meant to be a paradox, critiquing how even in an attempt to displace oneself from the domestic, invisible labour which can mean different things for different people, ie sexual or emotional labour, is still required in the journey towards acknowledgment.
Kohl Finlayson
Acts of Renewal
The restoration of commonplace things left in decay can generate a renewed sentiment for a site's past and its potential future. Acts of Renewal explores the process of restoring fragments of damaged public sites by sampling Google Street View's historical imagery and photo manipulation. Alterations based on the sites past are presented as a potential renewal of the site. The images mimic the stylistic cues of Street View to illustrate the documentary nature of the project and present the images as if they are from Street View's own archive. The purposeful interventions aim to reclaim sites that have been forgotten and left in decay.
Miranda Koetsch
Takeoff
Bustling in the heart of Central Okanagan, Kelowna has become a hot-spot for tourism and is called home by avid adventures, business moguls and students alike. As a result, over 2 million people pass through the gates of Kelowna International Airport a year and all kinds of aircraft from commercial jets, to luxury planes, to water bombers, touchdown and takeoff at all hours of the day. Now the 10th busiest airport in all of Canada, the YLW is a hub of activity that connects the Okanagan Valley to the rest of the world.
Takeoff examines Kelowna International Airport as a site that is both a fixed entity and fluid organism where long exposure photography creates a light signature depicting a single trip associated with the space. Many factors such as the plane's design, speed, and direction interconnect to create a light signature in the sky. Contrasting these bright signatures with rich blacks in a structured composition juxtaposes the methodical and chaotic nature of travel. Even though each flight is one-of-a-kind, they all share Kelowna as a central theme and convergent point.
In its full-scale intended state, the work would be printed and affixed to the terminal floor near the departures counter of the airport. In this space, it becomes dynamic as each passing traveler interacts with the piece by contributing footsteps and luggage-wheel prints. Much like the light signatures, different prints, directions and residual soil and dirt particles speak the to uniqueness of each traveller but all share the space as a commonality.
By recording from and residing in YLW as a principle site, this work speaks to paths previously traveled and participates in present and future journeys.
Shibo Liu
William R. Bennett Bridge
The William R. Bennett bridge is a pontoon bridge connecting downtown Kelowna and West Kelowna across Okanagan lake; it is the only bridge crossing on Okanagan Lake. It was built on May 25th, 2008 to replace the older Okanagan bridge, which was built in 1985. It was named to the former Premier William Richard Bennett who was a local of Kelowna. William R. Bennett bridge is an important link for the residents of Kelowna and West Kelowna, as it is a part of Highway 97, there are average over 50,000 vehicles crossing this bridge every day. The bridge is 1,060 meters long and it designed to handle 80,000 vehicles daily. The William R. Bennett bridge is now becoming one of the most important landmarks for Kelowna, it is the first icon people will see when entering Kelowna from the west.
My project documents the view of this bridge through time lapse photography, recording the traffic going across the bridge, the outlook of the bridge and the beautiful scenery people will get from the important locations around the bridge. The locations chosen include City Park and its pedestrian pathway on the bridge, and the time period was chosen from night to sunrise to sunset, showing how busy the bridge gets through different time periods. The view includes Okanagan Lake, downtown Kelowna and West Kelowna. Using time lapse allows me to document the bridge in a dynamic way ang allows people to feel the busy traffic on the bridge, which also shows the importance this bridge in functional way.
AJ Salter
Paper Doll
This project was based on the theme of "Site Specific", which involved choosing a place in Kelowna to present our work that would be outside the typical gallery setting. I chose the body as my site since I thought it fit this theme, and the body can be used as art in many other styles such as performance, or Gutai art. With my piece Paper Doll I wanted to explore the societal expectation surrounding what is acceptable to wear as everyday clothing. I use the children's toy of the paper doll to demonstrate clothing items that stem from the typical white t-shirt and jeans style are considered to be for "dressing up" when there is nothing wrong with wearing them as casual dress. The model for these photos owns all the clothing items pictured and wears them regularly and she always inspires me to wear outfits that are more my style for no other reason than I like them and to not be insecure just because they are a little wild. All her clothes are vintage or bought second hand, and are made with such good quality that they last a long time as well as she is skilled in sewing and repairs damaged items to increase their lifespan. With the fast fashion industry pumping out so many cheap clothes that ultimately end up in landfills I think it would be interesting to see how we can restyle old clothing to make it something new.
Chantel Snyder
Your Kelowna Street Market
This is trash…. Literally…..
Arianne Tubman
Do You See Me?
My Piece, Do You See Me?, revolves around mental health and the relationship between professors and students in large academic settings. When struggling with mental health, people tend to try to keep their struggles private. However as students we are expected to still show up for class and participate, regardless of any negative mindset we may be experiencing. In smaller classes and faculties professors are more in tune with their students, and are more likely to realize when someone is in distress. However, in large faculties, were a student may only be one face in a crowd of hundreds, how likely is it that the professor could notice someone having a breakdown? And how likely are they to try and reach out to that student? For this piece I documented my model in a few of the 200+ seat lecture halls on campus, from the perspective of each room's lectern. I then made a life-size cutout of my model, and inserted it into these lecture halls. From the viewpoint of the lectern, my photo creates the illusion of a student crying. If a professor were to attempt to reach out to this student, the illusion is broken. If left unaddressed, then the cutout remains alone in its struggle.
Mental health struggles have a direct effect on a student's performance in a class. When professors are aware of someone's struggle, they are able to work with the student to improve the situation. UBC's Thrive month promotes "mental health literacy, [reduce] stigma, [and create] a supportive campus culture". Like this initiative, my piece works to raise awareness, and reduce the disconnect between professors and students.
Jade Zitko
Down in the Woods
Once upon a time there was an enchanting path that lied deep within the forest just outside the city of Kelowna that would take you on an exciting journey unlike any other. Although, those who did travel this path knew they had to be very careful, because even though this path was filled with magic and wonder there was also a powerful creature that roamed within those same woods. One that was strong and wise but incredibly deceiving with its appearance. He may look soft and welcoming be he was a master trickster. The creature roamed freely and tended to avoid contact with anyone who walked the path. However, on rare occasions when he spotted something that interested him, he was known to steal. Even in broad daylight he would do so without any sign of being seen. He would bring all of his stolen treasures back to his home and add them to his collection. And every once in a while, someone would go and try to find this creature and his treasures, but this is a fool's quest for anyone who came in contact with the creature would be instantly terrified and scarred for life. But this is just a fairy-tale and no such creature really exist. So, if you go down to the wood today be sure to keep your curiosity in tune for you never know when a fairy-tale may come true.