13th October to 19th October 2023
About the Exhibition "The Journey":

"The Journey" delves into individual narratives of human experience and existence expressed by each artist currently enrolled in the studio course for the Masters of Fine Arts (MFA) Program. Each artwork stands as a testament to its creator's individual journey, forging a comprehensive narrative that promises to engage others through individual narratives that relate to our broad experiences. Using distinct mediums and processes artists express particular experiences making their work with concerns ranging from colour, form and layering of medium to autoethnographyand destabilizing situations globally that affect women's fundamental rights and concepts relating to disability rights and our own realities as 'temporarily able bodied'. Working from narratives of personal experience or aesthetic these artists bring their own journey into conversation with each other and us, as audience, asking us to relate to our own journey and our own humanity.

Participating Artists:
Negar Baghlani
Robin Hodgson
Roland Samuel
Tara Yadollahi
Artist Statements (excerpts):
Negar Baghlani
Untitled-2023
Oil paint on Plastic Sheet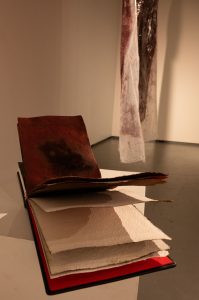 Negar Baghlani
Untitled-2023
Oil on paper :Art Book
"I have been recently exploring the simple shape of an oval as an individual form. The bulge and cavities, and the graceful qualities of asymmetry and dissymmetry which can mold many different forms, has become a very sensitive concern to study for me. Ovals are a combination of different shades of red, black and magenta that together give a feeling of a soft, warm and wet dense mass. It might be felt as either some untouched parts of your body or a forgotten part of your mind. The Oval project was initiated three years ago with sketches and continued with oil paint on vellum paper in different sizes. I worked on some small vellum sheets and oil paint to study the form and curves to find the one that matched with the picture in my mind the best, and I was satisfied by almost all of them in terms of either forms or colour. The way pure and undiluted red and black paints overlap, and in some other parts they are blended.
I am now visiting this project from three years ago again with oil paint on handmade papers bound together in a book. The fact that each single page satisfies me while is not assumed complete, made me ponder how exclusive the collection, as a book, can be. As if words, sentences and pages work together to define a whole concept, each page with slightly different details can add more information and feeling to the previous page and ultimately forge a detached picture in the onlooker's mind and give them a feeling of looking at a single sheet on the wall.
Robin Hodgson
Writing on a Trickle -2023
Acrylic, Latex, Spray Paint, Accidental Oil Spill on Birch panel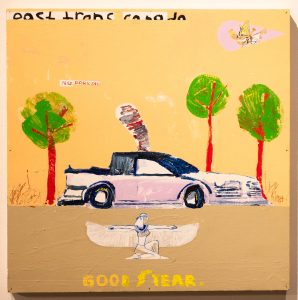 Robin Hodgson
Race Night -2022
Acylic, Latex on Birch panel
The paintings I create are intuitive, with spontaneous application and vigorous brush
strokes, often layered over areas of fine detail and text. These layers reveal and evoke
ideas reconsidered or purposefully left obscured, yet not entirely erased, suggesting a
past left behind but not forgotten. During these times of rapid social change
My paintings share the complex stories of those living with disabilities through my
large-scale, colourful compositions. The figures in my work are emotionally intimate,
painted in a fast and loose manner that draws the viewer in. My paintings are influenced
by the drama and symbolism of Renaissance painting reflected in both scale and
composition and symbolic imagery. I use autoethnographic images, like race cars and
helmets, that occupy the background and negative space of many of my pieces
referencing risk-taking behavior, and the motor vehicle accident that led to my spinal
cord injury. As a C5-C6 tetraplegic, I make work that investigates the physical and
psychological nature of post-able-body life.
Working from a wheelchair, my process employs the use of both traditional techniques
of painting by hand, mixed with experimental methods using tools I have built to
overcome aspects of my disability..Through my conceptual paintings I seek to develop a deeper connection between theviewer and the one-in-five Canadians living with disabilities. By exhibiting disabilityrelated images in a gallery setting I hope to stimulate conversation; and remind us allthat we are only temporarily able-body."
Roland Samuel
Ọ̀jà player in contemporary times –2023
Scrap Metal
"As an African visual artist, I consider creativity to be indispensable as a means to express myself and communicate my narrative. Sculpting is an ongoing process through which I aim to immortalize my story and the narrative of the people. I craft my sculptures using a variety of readily available materials, such as fibre, wood, plastic, and metal. Notably, my recent works have involved repurposing waste resources, including discarded metal, unused wood, and disposed plastic. This recycling of waste materials not only enhances the environment but also transforms devalued materials into aesthetically valuable sculptures..My sculptures serve as reflections on our past, commentaries on our present, and preparations for our future. I depict the transformation of our way of life, juxtaposing past societal practices with contemporary social issues. Throughout the creative process, I perceive myself as a conduit, an instrument employed by ancestral influences.
In my recent sculptures, I've incorporated waste metals from electronic components, reflecting the current age of technological advancement and material innovation. However, my sculptures often depict historical attire, traditions, and cultures that contrast with the advanced technology of the materials themselves. This contrast between material and subject matter is evident in my piece, Ọ̀jà player in contemporary times (2023). The Ọ̀jà is a small high pitched wooden flute, approximately seven inches (18cm) long, indigenous to the Ìgbò people (
Nwachukwu, 1997). This flute has historically been used for communication during significant occasions, spiritual rituals, or to convey messages to the king. It's a culture-bound medium for conveying messages, much like contemporary cryptography, as it can only be deciphered by those who understand it when used solely for chanting. The sculpture featuring the Ọ̀jà player is a representation that combines the enduring tradition of the Ọ̀jà flute with contemporary materials and techniques. It fuses traditional African motifs with technology, including the use of CNC laser machines for cutting found metal plates. This fusion serves to highlight the stark contrasts between what our society values and what it wastes in the modern era.
Tara Yadollahi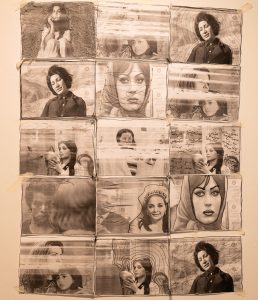 Women Fading Echoes-2023
Paper-Threads-Pins on paper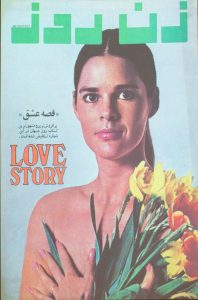 Tara Yadollahi
Zane-Rooz-2023
Digital Projection
"..many women have been censored in Iranian society over time… either by choice or by force. I remember my father always talking about the old female singers, actors and celebrities before the Iranian revolution 1979, and how much more advanced they were than their time, they somehow had more freedom in speech and even in dressing; back then, they might have been judged by people in the society because of their clothing or thinking, but there was no law to prohibit them from their clothing or behavior. But after the Iranian revolution, the law of mandatory hijab for women was officially approved, and then many of female celebrities have been faded day by day and suddenly there were no picture or name of them. Some of their images and even artworks were banned in the country because they were against the Islamic laws in Iran.
This sparked the inception of the "Zan-e Rooz" initiative. Zan-e Rooz (means "Woman of Today") is a women's weekly Persian-language magazine published in Tehran, Iran. The magazine was first published in 1964. The first issue hit the newsstands in Tehran on 27 February 1965, and the magazine gained an immediate success. Before Islamic revolution Kayhanpublishing company was the editorial and publisher. After the Iranian Revolution, as women's political activity alongside men increased, publications focusing on women's issues sprang up to answer the increased demand. Due to this, Zan-e Rooz shifted from being a Western-style gossip sheet to a publication dedicated to exploring the rights of women within the Islamic framework. This magazine has a nostalgic atmosphere for all Iranians. I remember well that my grandmother used to buy this magazine every day, and in fact, this magazine played a prominent role in my childhood. Years later, when I became a young woman, when I looked at the past and the progress of this magazine, I saw that women and women's issues had become less important day by day, so that even in society, women were not seen and were censored. In this project, it shows the process of censoring a woman on this magazine, as well as her censoring in society. In fact, the woman gradually gives its place to the "Peyvandha" page, which is the symbol of the filter and censorship of the website in Iran. Furthermore, This page appears on the browser, in Iran, when a site is filtered by the State and Islamic law and cannot be accessed without a VPN. This filters page is a collection of state sanctioned or approved sites and topics. This page is a reminder and a symbol for me of all the filters and censors in Iran.
A few months after the creation of the "Zan-e Rooz", it came to my mind that it is true that many women are censored in society, but I can look at this issue in another way: why should us, women, censor ourselves? And alos, in other words, if we think deeper, even society has been censored by then too!
This was the spark for me to start creating "Women's fading echoes " artwork. In this new collection of digital artworks, I somehow completed critically "Zane rooz" (2020). This series of works is a collection of portrait photos of these women before the Iranian revolution, like Forough Farrokhzad, Googoosh, etc. In this work, I still tried to keep some elements like the "Peyvandha" page, but this time, I censored the space around each artist. In this work, I tried to print them with the same low quality as some of the photos, and then somehow drawing on some of the images and even writing their poems and dialogues in different movies, and then by sewing them together with thread or connecting them together, by pins and tape, I conveyed to the viewer more of the concepts that were in my mind. Concepts such as disappearing and being present at the same time, concepts such as being separate but at the same time being connected.