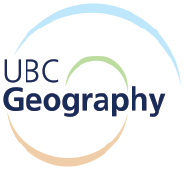 Welcome!
This is a blog dedicated to showcasing the career successes of the alumni from Geography degree programs at UBC. Each of our alumni has a unique story behind their success that details how they were able to leverage their graduate degree to pursue a career in the world of academia, consulting, and beyond. If you are wondering whether a graduate program in Geography is right for you, read a few blog posts and discover for yourself the exciting and diverse range of work that our alumni do while creating a meaningful difference in the world!
If you are an alumnus and want your story to be posted, please email graduate.program@geog.ubc.ca.
If you are a prospective graduate student and would like more information about our graduate programs, please visit https://www.geog.ubc.ca/graduate/.