Welcome to the final blog in our 4-part series (*cue party horn*)! Our 3 month LFS journey—the brain-child of critical epistemologist Will Valley—will draw its curtains next week (*party horn fades into silence*).  And quite frankly, we feel a little ripped off by the whole experience (*cue audience gasp*).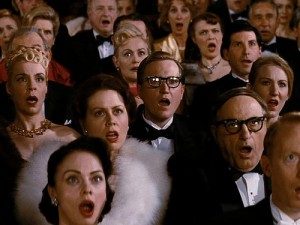 "Why"? You may ask.
"Well", we respond. "LFS 350 is supposed to be an experience tantamount to the realities of community food system work. Our previous blogs have touched on how that epitomizes the discomfort and uncertainty that is effectively botched out of traditional curricula.
"We have heard the accounts of students lamenting their LFS 350 placements, overwhelmed with their community partners or projects. A myriad of reasons may have triggered this: from too much work being planned by the community partner for a 4 month course, to too little planned work being planned by the community partners to allow students to write/present with. The confluence of discom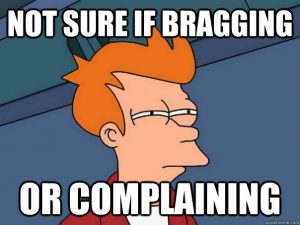 fort and uncertainty is clear. But with the gamut of emotions Dr. Will has structured this course to expose us to (much like the way a bullet train "exposes" itself to an unsuspecting squirrel on the train tracks), our experience has been relatively vanilla".
It's true. We attribute much of this to our shockingly clear and fairly scoped term project. It is clear our community partners are aware of the capabilities and limitations of a short-term student project. There have been no issues with communication, and often periods of time where any form of communication seems negligible.
Of course,  it hasn't been all peaches and cream. Our group was not somehow exempt from moments of frust
ration. For example, we will be presenting on a project this week that is not yet even completed! In our project proposal, we expected to have been able to test the publicized project by now. Woops.
While we scurry to dot our final "i"'s on the term, dismounting gracelessly, we are once again reminded to reflect on the moments that this project has given rise to. As a group, we are tempted to take a macro-based approach, seeking to think about our feelings from start-to-end, and verbalize our growth in words. As well, we hope to reflect on some challenges to time management. We will utilize the "what/so what/ now what" framework to help guide our reflections.
4 Months Older, 4 Months Wiser
What?
Semester Summarized
As the term progressed, we learned how to work more efficiently as a team. Through trial-and-error, we learned how to delegate work fairly and effectively. First impressions of the course left us wondering how a group of 6 people could equitably split work on assignments such as project proposals, with naturally low word counts. We had to learn to judge a team member's contributions in ways that are less objective than assigning x amount of words to each member. Instead, we opted to delegate portions based on the strengths of team members. Those who may contribute less in an objective sense, could contribute more in future assignments.
Previous blogs mentioned our "couples-based" delegation of data collection for the food map. This approach has proven itself efficient, leading us to not only verifying but also expanding the asset database considerably well. Also, setting soft deadlines on tasks in each step of the project, we managed to mostly stay on top of things despite our busy school/work schedules.  
Time Management
There is still room for improvement. One specific moment of significance that we have embraced as we approach our infographic presentation is that our database has not yet been finalized. This moment reflects the challenges of time management innate within this course (and we suspect, project work in general). Even acknowledging our prognoses of the final weeks inevitably being busier than usual, we were still challenged with having things come together on time.
So what?
Semester Summarized
The increased productivity exemplified through our adjustments not only gave us the satisfaction of accomplishment but also made us realize how much our group has grown since our the beginning of our semester. Are initial instincts were to divide and conquer. This approach holds the benefit of evading collaboration and the risk of discomfort is may cause; but is ultimately a restricting approach. We began to realize this only after surmounting the initial discomfort associated with teamwork, and cohesiveness became an asset. We acknowledge that there are few jobs in the real world, especially food system work, that do not necessitate interpersonal team dynamic collaboration. There's no doubt that we have grown stronger in a professional sense, and have also developed bonds with each other through our shared experiences.
Time Management
Regarding our challenges to time management, we believe we may need improvement in fabricating realistic time deadlines. Given the novel nature of our project, it was not likely nor expected of us to make perfect assumptions. Ultimately, we are still at fault and are made to live with the consequences of this.
Now what?
Semester Summarized
Even though we will soon be taking off our LFS 350 hats, our journeys to make meaningful change in the food system and within our disciplines has only begun. Our perceptions of influence must not waiver. The skills developed in this course are conducive to success not only in pursuing food justice, but also more generally in our future careers. Also by carrying these valuable skills to our future opportunities we hope to apply these skills and the earned knowledge to better understand the problems and try to overcome future struggles. There is a consensus that this course equipped us with the opportunity to develop skills outside of the classroom that cannot be offered by most other courses. Greater than that, the course has instilled us with a sense of validation and agency that cannot be paralleled by other courses.
Time Management
Though it may be a bit late to commit to changes for this project, we can expect to deal with similar project dynamics in the future. Thus, we should heed a few lessons from this experience. The first is to provide a little more wiggle room for soft deadlines. Not knowing the nature of your work makes it difficult to impose perfect deadlines. Secondly, it may be wiser to impose more comprehensive follow ups within the group, just to ensure fluidity and comfort amongst all group members.
Signing Off
It is with immense gratitude that we express the ending of our blog series. We hope our word-pictures have given our readers a sense of our journey. Furthermore, we hope we have inspired others to embrace their own community projects, as there is a wealth of knowledge to be gained if you allow yourself to be aware of it!