This is the third in a series of dispatches from our field work in the Republic of Marshall Islands.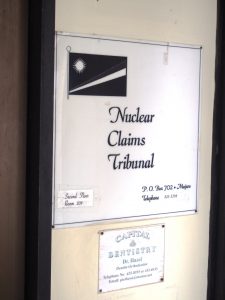 Across the road from the pier where we began each day in Majuro is a building housing the Nuclear Claims Tribunal. And a dentist's office.
The Tribunal was created in the 1980s as part of the "Compact of Free Association" with the U.S., which gave the Marshall Islands independence. It was established to compensate the people and their families affected by the nuclear tests on Bikini Atoll in the 1950s.
The story of the forced evacuation in advance of nuclear testing of Bikini is well known. Today, the Bikinians and their descendants largely live on Kiji, a small crowded islet in Majuro, or in the U.S.
Less known, and even more odious, is the story of the people of Bikini's close neighbour, Rongelap Atoll, a mere 75 miles away.
The Rongelapese were not evacuated until 1954, days after the massive 15-megaton Castle Bravo test dropped fallout over the whole region. Three years later, they were told it was safe to return.
They became test subjects in what was effectively a randomly controlled trial on radiation exposure. The Rongelapese were finally evacuated again in 1985, to two small islets in Kwajalein Atoll, home of a U.S. military base, by Greenpeace aboard the Rainbow Warrior.
As detailed in the Rongelap Report, the fantastic and thoroughly depressing book by Barbara Johnston and Holly Barker, the Nuclear Claims Tribunal has awarded over $1 billion in legal claims. However, under the Compact agreement, the Tribunal was only allocated $150 million in compensation. The rest has gone unpaid.
Some Rongelapese are still hoping to return home, depending on the health of the soil. Not the Bikinians, though.
The Bikinians are worried about a new threat, also brought on by the rest of the world. Their adopted islet of Kili, along with much of Majuro, has experienced severe flooding several times in the past few years. Concerned about sea-level rise, the Bikinians in Kili have asked about relocating to the U.S.