Currently listening to: "Dear Confessor" – Immaculate Machine
I really ought to keep up to date with blogging; life is simply flying by at the moment. Over the past week, the Olympic haze has lifted, propelling us back into the skid-stop-go routine of la vie quotidienne. In between dashing from meetings to class to work, I've been listening to way too much Architecture in Helsinki, fangirling Joseph Stiglitz, and practicing the ukulele.
Oh, and cooking.
From stews and soups for one to treats for sharing, I've been de-stressing by making delectable little creations – as I type this, there are meringue cookies baking in the oven and they smell absolutely heavenly, if I do say so myself. Photos will follow in due time!

Beating sugar into egg whites until they form stiff peaks for the meringue cookies!
Another fun little savoury treat which my roommates adore are microwave potato chips. If you've ever got a spare potato lying about the fridge, this five-minute recipe for crisps is unbelievable. I was initially skeptical about making crisps in the microwave, but they turned out excellently: just the right amount of crunch, and made perfectly to taste. These are particularly wonderful when you're just craving a crisp or two – or if you're like me, can't be bothered to run down to the convenience store and grab a bag. I've also been experimenting with flavours…salt and vinegar might be the next one.

Microwave crisps! Omnomnom.
So I thought, well, you could probably make chips out of other things in the same way, with some minor tweaks.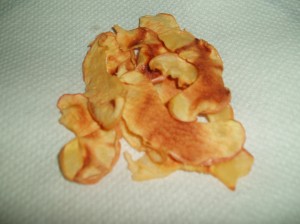 Apple chips! Sliced apples on a plate, sprinkle with a little sugar, microwave. Not quite as delectable as the potato chips, but tasty nonetheless.
In the meantime, what are your favourite recipes? What other vegetable chips should I tackle next? Drop me a line, and contribute to procrastination!
Tags: baking · five minute chips1 Comment