The Humans of New York (or HONY) is a photography project started by one person in 2010 and has developed into a blog with images and snippets of stories from New Yorkers. Brandon Stanton, the photographer and writer, describes the blog: "With nearly one million collective followers on Facebook and Tumblr, HONY now provides a worldwide audience with glimpses into the lives of strangers in New York City."
The front page evolves as photos and stories are added and looks like this.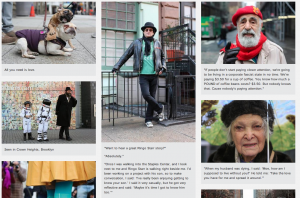 The blog is in the genre of street photography, with the addition of the stories. While Brandon wants to give us a glimpse of the lives of New Yorkers it is also possible that he is unwittingly creating an ethnographic data record that reveals much about the culture of, in this case, New York City, but perhaps more generally urban USA. The ability to digitally create, store and distribute data opens possibilities for a new kind of field work.
HONY has spawned a host of clones, especially on college and university campuses: Simon Fraser University, Humans of Houston, Detroit, Miami and Seattle, Humans of Brown University, Binghamton University, Lehman College, and Reed College. The purposes of the clones may vary but each creates a census of people in a given place, a data record of people within a cultural context.