Using a combination of GIS technology and social science, there are strategies being developed to connect narrative to place.
Some of this work is being supported by the Center for Digital Storytelling with a project called UR Hear that integrates urban research, storymapping, community-based service learning, and asset-based approaches to community development.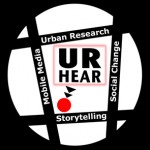 An example of using GIS for doing local history is the Cedar Cottage Virtual Walking Tour created by the high school students at Gladstone Secondary In Vancouver, BC. The project uses Google Maps to create an historical and current picture of what the Cedar Cottage neighbourhood has been and is–clicking on a marker on the Google map takes you to historical photos and descriptions of places, interviews with current residents and business owners, and results of community surveys.