January 5 – 8, 2016
For our walk we began our journey at Olympic Village station. From there we headed over towards the park along the edges of false creek. Along the way we noticed a huge plot of land that seemed to be occupied as a parking lot, with a huge old and run-down building that was extremely rusty and vacant. The faded sign appeared to read "Vancouver Mill Machinery…". From our knowledge this was probably a log milling plant that was used during the years when Vancouver had a thriving industrial phase.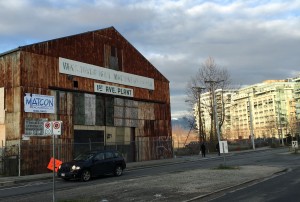 As we continued on, we came across a sign about South False Creek's new habitat island, shoreline and inlet. To recognize the historical significance of the area to First Nations groups in the area, native trees, shrubs, flowers and grasses have been planted along the waterfront path and on the habitat island. These features were created to provide an ideal home for various flora and fauna, and acknowledges the importance of the area to non-human beings as well.
Moving forward we began to head in the direction of Main Street station. As we walked along the streets, we noticed a lot of newer housing developments that were being introduced to the neighborhood, many of which seemed to hold on to the name of "The Creek" as if to reminisce about the history of First Nations land and streams dedicated to fish and wildlife that live in and around these neighborhoods. In addition we walked passed several sewage drains that had pictures of fishes on them, to indicate the presence of fish and other sea creatures that live along the streams and shorelines.
As we walked towards China Creek, we noticed a shift in land use from primarily high multi-story apartments, offices and community spaces, to more specialized services like ski and snowboard shops, fine art services, and even a local brewery. In addition most of the housing appeared to be older, low-rise apartments and small single-story homes, some of which were vacant and had signs to indicate future redevelopment. Along the sidewalks of these neighborhoods, we noticed that there was a prominent environmental initiative set in place called "Green Streets". This community garden program allows local residents to have their own green space and grow their own plants, flowers and even vegetables and fruits for more sustainable way of living. Another observation we noticed was the presence of a montessori preschool and a community centre that catered to many kids and youth. This could indicate that the surrounding neighborhood is relatively safe from crime and heavy flows of traffic.
When we finally arrived at the destination, China Creek, our initial reaction was that the park seemed quite underwhelming. Besides the playground and baseball field, there was just a huge plot of grass with a couple of people sitting on benches or walking around. In the past, the China Creek system was one of the largest drainage basins in Vancouver. It served as the home to various sea creatures, such as salmon, sturgeon, crab, mussels and clams. From the 1920's to 30's, the China Creek ravine was also used by the City as a garbage dump, until local residents complained about the smell and potential health risks.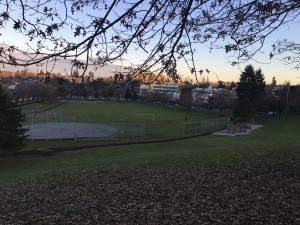 As a "green solution", we suggest keeping better maintenance of the "Green Streets" initiative. Throughout our walk we noticed that many of these "Green streets" were poorly kept and appeared as visual pollution. These green streets exhibit the potential to promote a stronger sense of community and neighbourhood responsibility, and also help preserve some of the histories of plants and species that may have existed many years ago. This can be achieved by providing informative plaque cards of important species and its historical links to the First Nations people and their land. Our  inspiration for this idea came from  similar information boards that we found at the start of our walking tour near Habitat Island. In addition, we suggest an increase in resources available to residents wishing to maintain these garden spaces. Although this initiative is volunteer driven, the creation of better signs could help indicate public accessibility, and also outline the action volunteers can  take to maintain this initiative. We believe this could be a cost-efficient and feasible solution that extends the current environmental preservation work currently near Habitat Island.
Our group thoroughly enjoyed this walking tour activity. It enabled us to realize the smaller details in our surroundings that we often miss when we are commuting and in a rush to get to places. It is so easy to take our land and space for granted, without realizing its historical significance and the impact we have on its fauna species and biodiversity. Through this activity, we were able to learn more about each other but also understand the importance of local community partners, in areas such as Williams Lake.