The start of my open water swim in 2020
The only nice thing that COVID-19 brought to me is that I started my open water swim. All the swimming pools were closed since the beginning of March. All Masters Swim teams stopped their group practice. Patricia, Phil, and Bruce started to swim in the sea from May. The water was freezing cold in May. From June, the water became better. I felt I could join my friends and try some open water swim.
I learned two lessons from my new experiences, (a) there are different kinds of wet suits, and (b) orientation in the sea is important. The first time I joined them, I was left far behind. I realized that there are different kinds of wet suits. The one I got is for diving, not for swimming. Too thick to stretch my arms! After two weeks, I finally got the right kind of wet suit.
I was late for my second swim. Everyone left the beach into the water, but I was able to see them, so I thought I could catch up to them. Somehow I was pushed out by the current and swam too far, but I didn't realize that. I did not see anyone on my way, so I started to swim harder and thought I should be able to see my friends after a while. However, it didn't happen. 🙂 By the end, my friends sent a windsurfer to turn me around…
After a few times, I started to enjoy open water swim. Still a lot to learn.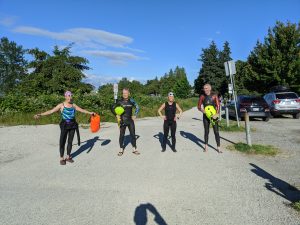 So long, Ivan…
I have a regret and will never be able to make it up. I always feel I can put off something because they are not urgent. I have been occupied by my job and many other things and put off my visit to see my old friend, Ivan Szasz, for a few months and suddenly heard that he passed away. I cried the day when I heard about this. If I knew this, I would manage time to see him no matter how busy I were. Now, it's too late…
Ivan is a generous and very kind person. He offered help to people when he saw them in need and didn't wait for them to ask. He took his disabled friend to swim almost every weekend. He gave a ride to students after evening swimming practice. He helped his neighbor…
Ivan is a tough guy. He always likes to take challenges. He broke swim records in his seventies. He likes to do 200 butterfly. The last time, he couldn't make it in a swim meet because he couldn't breath by the end. He was so sad. A couple of months later, when he learned that he had lung cancer, he said, "Oh, that explained why I couldn't make the 200 butterfly. Otherwise, it should not be a problem."
I miss your smile. You always smiled and told me, "you can do it", when I got tired and wanted to give up. We discussed swimming skills and studied Michael Phelps' strokes… I miss you after swim. You always offered me a ride after swim and we chatted about everything. You are always encouraging and supportive. I owe you a hug and a visit.
So long, my friend. Many many friends and people will remember your smile and your spirit. So long, my friend, have a good rest. I miss you…
Some thoughts by the end of 2018
The universe is enormous; our heart is so small that we cannot afford to carry too much. With a little bit more understanding, a little bit more tolerance, and a little bit more care, we will feel our life easier and happier. Failure, sorrows, glory, and ups and downs, all have marks on our heart. We cannot carry so much; we need to learn to put them down. With self and ego, I am between the universe and the earth; without self and ego, the universe and the earth are in me. Without ego and self, we will be able to make our heart out of the box and immerse ourselves in the universe. No boundary between the universe and me.