The following was originally posted in the 2014 Orientation Week Blog….It was just too good not to share.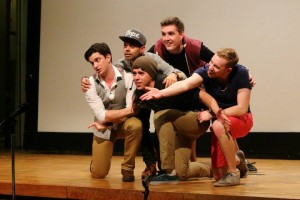 —————————————————————————————————-
We open in a disheveled living room, strewn about with scripts, papers, textbooks, and a copy of the McGill Guide flung into one corner. OUR HERO sits on the couch, dressed in sweatpants which have clearly not been washed in some time and a sweat-stained Orientation t-shirt. In front of OUR HERO: a laptop.
OUR HERO: I have never worked so hard in my life for so little. Undergrad was so easy, and now it's all I can do to keep up with readings. Also, my hangovers just get worse as I get older. Why did I ever choose to do this? (Life is a bleak void from which there is no escape but death, etcetera, etcetera)
Messenger application chimes. 
OH: A message from my upper-year legal buddy! [Reading aloud] "Saw your status update about not bathing in a week and thought you could use a laugh. Check out this video from last year's Law Revue." That's so thoughtful!
We fade out as a golden light emanates from the laptop screen, filling the room. Like, religious-experience golden light. Maybe some choirs of angels are heard. Real humble stuff here.
New scene: OUR HERO in the halls of Allard, running into UPPER YEAR LEGAL BUDDY. Huge contrast from the last scene: OH is dressed, washed, groomed, generally looking like a human being.
OH: Hey, thanks for sending me that video last night! It really cheered me up. Turns out that I really enjoy laughing at the same three in-jokes about the legal profession and how hard law school is!
UYLB: No problem! Man, we really do work and play hard, right?!
OH: Ha! ha! ha! You are so right!
UYLB: Say, the clubs fair is on right now. Let's go over and check out the Law Revue booth! [Turning directly to fourth wall.] Like so many of my colleagues, my greatest regret from last year is that I kept talking about writing something for Law Revue, and then I never did. This year for sure I want to be involved!
OH: Gee, [name of UYLB—something unisex? Taylor?], I don't know. Even though I've chosen a profession in which public speaking is crucial, I don't think of myself as a good performer.
UYLB: Don't worry about that! You should have seen some of the chumps they put on stage last year. Besides, the Law Revue always needs people behind the scenes too! Last year they kept asking for writers, singers, people with technical experience—even people who were willing to shoot videos or help with sound recording.
OH: I can't do any of that stuff, but I think I'm funny. People love my Nikos Harris impersonation.
A Law Revue director appears in a puff of smoke.
LAW REVUE DIRECTOR: I'm sorry, did someone say they do a great Nikos Harris impersonation? Here, sign this piece of paper without reading it.
OH: Okay!
LRD: Great! We'll see you in March to be in three skits we've written about Nikos. It's a minimal time commitment; we only need you for weekend rehearsals and two evening performances on the following Monday and Tuesday.
OH: That's it? And then I get to put it on my resume?
LRD: That's it! Also we will feed you and give you lots of beer, and all your friends will tell you how funny you are.
OH: [Stiffly, but with great enthusiasm] THIS IS THE BEST EXTRACURRICULAR ACTIVITY EVER, I CANNOT WAIT TO DO THIS.
UYLB: I AM SO JEALOUS OF YOU FOR ACTING IN THE LAW REVUE, LET ME SIGN UP TOO
OH, UYLB: [Together] THIS WILL BE SO FUN! WE CANNOT WAIT TO TELL ALL OUR FRIENDS
All actors turn to fourth wall, smile broadly, give big thumbs up.
——-
No, but seriously, here's our pitch:
Before you graduate, lose your sense of humour, and start billing clients in six-
minute intervals for glorified research work, join us at the Law Revue to make good, clean, light-hearted fun of the legal profession! (Please.)
The UBC LAW REVUE is Allard Hall's yearly variety show, as written and performed entirely by law students. We meet several times throughout the year to write skits and songs, then perform the show over two nights in early March. Previous performers have described the process as "easier and more fun than I thought it would be," "a completely minimal commitment," and "I learned a lot?"
We are always looking for people to write, perform, shoot videos, edit footage, record songs and more. We pay in beer and Valuable Extracurricular Experience.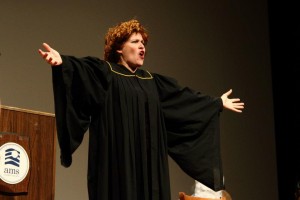 Don't want to participate? Join us for one of two performances in the early spring! Beer, wine and cider are sold during the show. All proceeds go to a charity chosen by the cast at the end of the year.
Want to know more? Find us on clubs days (just follow the trail of glitter and recycled jokes) or email us at lawrevueubc@gmail.com.