Listen up guys.  This might be the coolest tech meets fashion news you've heard to date.
In September's Fashion Rocks concert in New Yorks City, where artists like Usher, Nicki Minaj, KISS, Pitbull, Miranda Lambert, Jennifer Hudson, Luke Bryan perform, Verizon did something unreal.  The company looked at online conversation and trending topics around music and fashion words and based on how much a topic was talked about, its colour changed in Verizon's pattern.  Verizon monitored the conversation every 30 seconds, making this a truly real time pattern.  A live stream backstage at the show showed how a colour of a trending topic would change as soon as it hit a certain level of trend.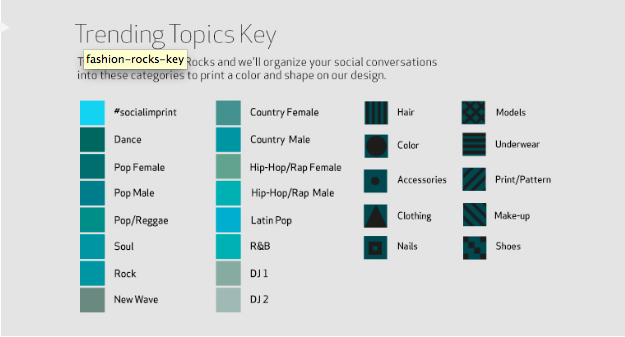 After the show, Verizon released an interactive version of the fabric, so viewers could match the colour codes to the topic chart and see which conversations were most popular at which times of the show, looking back on what real time conversations were generated.  Verizon then had the fabric printed and announced the Project Runway winner and designer Christian Siriano was going to put together a garment with the fabric.
Now how cool is that.  Tech meets high fashion and music.  Amazing.