Themes & header images
WordPress contains a variety of built in themes from which you can choose. Different themes have different capabilities including customizable headers (so you can put your own image at the title of your page). You can completely change the look and feel of your site at any time by selecting a new theme.
View this video tutorial to learn more: https://www.youtube.com/watch?v=0YTLoQ8QqwQ
Many themes allow you to upload your own header image. The header is the image the appears at the top of each page in your eP. I do not have a header image set for the theme I am using for this eP sandbox site. You can visit the Scarfe Sandbox to see an example of a theme with a header image (the sandbox is the header).
To set a 'header image' for a theme that supports one, click the Appearance menu, scroll down to header and then upload. If 'header' is not an option, then the theme doesn't allow a header image and you'll need to choose a new theme if you want a header.

*For some themes, you can also set an unique photo for each page of your portfolio – Do so from your dashboard by opening the page or post you wish to change, scrolling down to the bottom right corner of the dashboard and selecting 'Set Feature Image'. For this eP site, I have chosen a theme that allows for a featured image for each blog post. When you click on the FAQ page, you will see a series of images – these are the featured images for each post on the blog!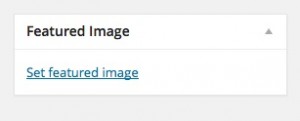 Once you've uploaded or selected the photo you wish to use, be sure to click 'Use as featured image' – this will enable the photo to show up as your header on the selected page!