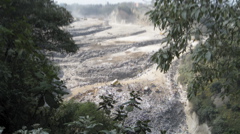 Today we visited the Guatemala City dump. We passed "El Gallito," a part of town controlled by drug traffickers, as we made our way to the municipal cemetery which overlooks the dump. This was a place used by death squads during the internal armed conflict. They would kill "subversives" and throw them into the ravine at the dump. We stood there and watched a microcosm of the great injustices that afflict Guatemala.
According to our expert guide, Fredy Maldonado, 3,000 people work in the dump everyday, and 21,000 live in the surrounding barrio. They now have to pay to get into the dump to scavenge, and the truck drivers take bribes to let certain people have first dibs. Municipal workers patrol the dump, earning about $300 per month. The stench of methane and sulphur penetrates nostrils and irritates skin. Worms, bugs, rats infest this world that Dickens or Hugo would have trouble doing justice (and I can't even begin to convey). Nobody is allowed to live in the dump any more: too many areas collapsed taking the pickers with them, smothering them in garbage. Under the dump are subterranean rivers. Pickers can get about one dollar for 100 lbs of plastic. Many bring the garbage back to their homes to sort and sell. Earnings are lower now that the economy is slumping–there is less interest in recycled material.
After witnessing this horror, we visited a child care centre and school organized by a non-profit called Safe Passage that has done a remarkable job of taking kids, mothers and fathers in the neighborhood and giving them the chance to learn basic reading and math skills. They make jewelry from recycled material. So we did some Christmas shopping. This year I will read Dicken's description of want and ignorance in A Christmas Carol with some new and vivid images in mind.
After the visit to the dump we return to class and watched "Manos de Madre," a documentary about the people who work in the dump who have been involved in Safe Passage.
To learn more about Safe Passage, go here.