The forensic laboratory in the Centro de Analisis Forense y Ciencias Aplicadas (CAFCA) is a small brightly-lit room with flat white tables upon which forensic anthropologists piece together skeletal remains. Their goal is to determine the sex, height, and age of the deceased, data that are combined with information about the site of the exhumation and testimony from affected communities in order to determine the victim's identity. Over 200,000 people were killed during the armed conflict in Guatemala, and 40,000 to 60,000 "disappeared." The CAFCA laboratory has already contributed to identifying over 580 people, a drop in the bucket compared to the magnitude of the genocide, but each skeleton is what remains of a person who can be returned to their communities for burial so that family and friends can grieve. Each victim of a massacre entitles members of his or her community to reparations, so that the bones, properly identified, can trigger judicial processes. They might even one day contribute to bringing perpetrators to justice. One day. To date there have been precious few trials of human rights crimes, none of high ranking officers.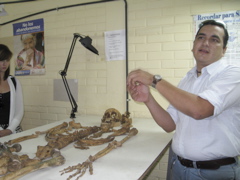 We crowd into the laboratory. There is a little nervous giggling. We could be in an anatomy class. Miguel Angel Morales Reyes, chief of the forensic program in CAFCA, starts to explain his work. It begins to sink in that we are in the presence of a young man, a Mayan Indian, killed with a bullet to the head in 1982. After Morales finishes his description of how remains are identified he says "now I would like to ask you a question." He then describes an exhumation of 17 bodies, each of which had a machete knife blow to the neck. The skeleton with the least trauma has 2 cuts, the one with the most had 17 cuts. "What kind of human being would do that?" There is silence. "Not really a human being" ventures one student. "Perhaps someone who had been involved in many other massacres." Madness and bloodlust seem to be the best explanations. Morales then tells us the story that was recounted by the community. It was a remarkable learning moment for us all.
The army came into the village and an informant identified 17 people as subversives. The soldiers rounded up the remaining villagers and told them it was their job to "clean up" their own community. They then forced the villagers to kill their own friends and families. There we stood, in that room filled with bones, imagining a community forced to kill its own family and friends. Discussion ensued. What kind of justice is possible, when the lines between perpetrators and victims are blurred? In this case, would not individualizing responsibility merely add to the grief? While those truly responsible have eluded justice, many communities have had to learn to live together knowing that there has been impunity for those responsible and that perpetrators walk among them and are also victims.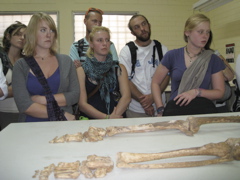 In vivid and lucid presentations by Hector Soto, the Director of CAFCA, and William Ramirez, of the Justice Education Society in Guatemala, we glimpsed some of the ways in which the absolute impunity that reigns in Guatemala, coupled with the persistence of the conditions that led to the violence in the first place, has prevented the society from overcoming its collective post-traumatic stress. It is also present-traumatic stress, since violence and impunity continue today, and follow the same modalities and patterns as before (the rape and dismembering of women, for example), even as it has evolved into forms of violence and impunity that are less directly political (gang violence, drug-trafficking, corruption and criminality in the very highest levels of government).