Category —
3.2 The "O" Professionals
An orthopaedic surgeon is involved in the care of patients with conditions in their bones and muscles, known as musculoskeletal problems (Fig. 1). These include congenital deformities, trauma, infections, tumors, metabolic disturbances (see full Glossary) of the musculoskeletal system, deformities, injuries and degenerative diseases of the spine, hands, feet, knee, hip, shoulder, and elbow in children and adults. He or she has been trained on how to repair and treat conditions related to the limbs (arms and legs) and spine, and to how to restore these through surgery so that they can function to the fullest capacity (Fig. 2).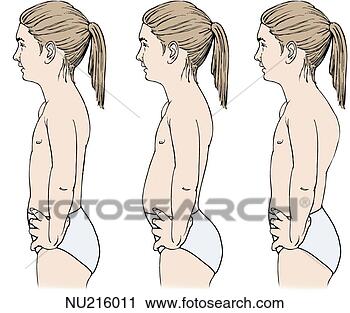 Figure 1.  Examples of spinal deformities in a child (The child on the left has normal spine)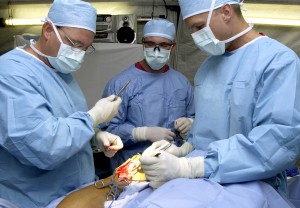 Figure 2. Knee Surgery
An orthopaedic surgeon is also concerned with primary and secondary muscular problems and the effects of the central or peripheral nervous system lesions of the musculoskeletal system.
January 30, 2012 No Comments
An ophthalmologist is an MD that has specialized in the examination, diagnosis and treatment of diseases and conditions of the eye (Fig. 1). This includes problems affecting the eye itself and its related structures, the eyelids, the orbit, and the visual pathways. An ophthalmologist prescribes vision services (Fig. 2), including glasses and contact lenses.
Figure 1. Eye
Figure 2. Prescription
Practice
Ophthalmologists (Fig. 3). are medically trained to diagnose, monitor, and medically or surgically treat all ocular and visual disorders, including vision loss.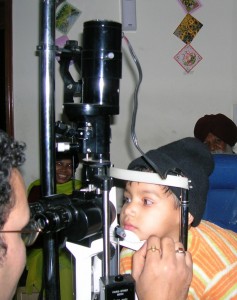 Figure 3. Ophthalmologist examining a child
This specialist has the knowledge and professional skills needed to provide comprehensive eye and vision care for patients of all ages. They also provide consultation services for the diagnosis and management of eye and vision related manifestation of systemic diseases such as diabetes, hypertension, and infectious and noninfectious inflammation.
January 30, 2012 No Comments
Occupational therapists are health-science professionals with a Master's or PhD degree in occupational therapy.
Practice
An occupational therapist (Fig. 1) works with children to improve coordination, motor skills, and skills to play, function in school, and perform routine activities. Kids in occupational therapy may be coping with birth defects, autism, juvenile rheumatoid arthritis, developmental delays, burns, amputations, or severe injuries.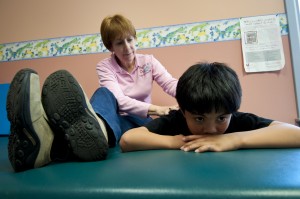 Figure 1. Occupational therapist
January 29, 2012 No Comments