Most of us have heard at least some information about the IRP (Integrated Renewal Program), and SASI (the Student System replacement project) before it. While many of you have taken part in IRP or SASI related workshops and meetings, others have not had any direct participation, and may have only a high-level understanding about the projects.
As we continue through this journey, we want to support connection to the program. Starting with this article, and continuing regularly on ES Connected, and via other methods, we'll be sharing more regular program updates and information to help get you up to speed about what the IRP is, how Enrolment Services is—and will continue to be—involved, and what that means for you.
While we certainly can't claim to have all the answers, there's lots of information we can share. At the end of this article, we'll share some links and resources so you can read more about the IRP and find out who to contact when you have questions.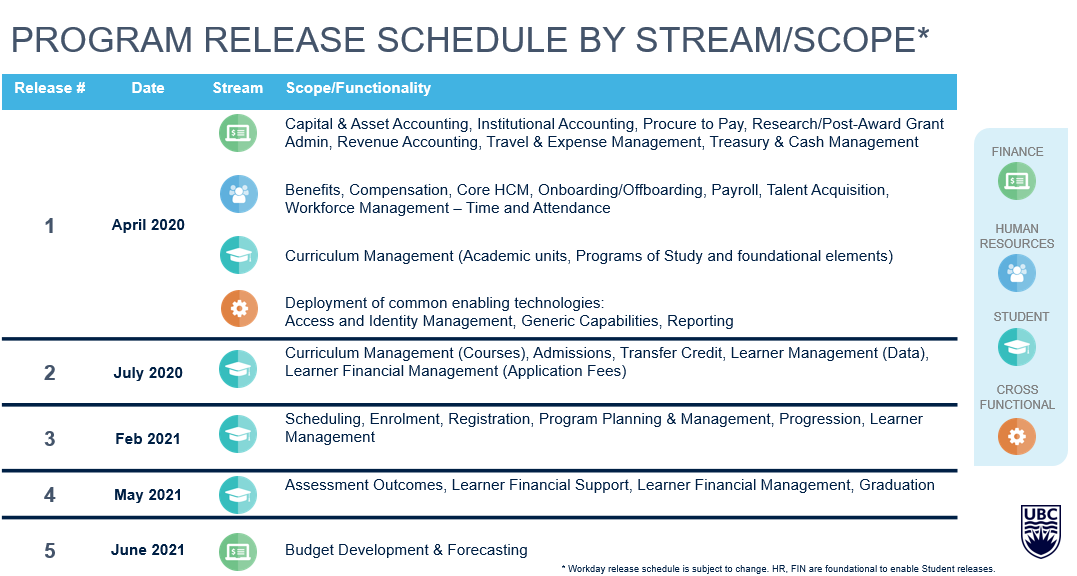 The Basics
The Integrated Renewal Program brings together three systems renewal projects under one program umbrella. Because UBC was in need of a new student system to replace the SIS as well as new HR and Finance systems, a decision was made to combine the three projects into one program. After thoroughly evaluating a number of potential systems providers, UBC was thrilled to select the Workday platform—a cloud-based, user-friendly, mobile-enabled platform. Workday is an innovative and industry-leading company that will provide enterprise-wide systems to meet our Student, HR and Finance system needs.
3 Work Streams
The Student,  HR and Finance system replacement work will be organized into three work streams. The image below outlines scope areas for each of the three work streams. Please note that these lists may be updated as additional functionality is released, or as scope is refined.


While some ES staff may be involved in training or workshops in the HR and/or Finance Streams,  most of our involvement will be in support of the Student Stream.
A number of ES staff members have been seconded full-time to join the Student Stream team, and they officially began their secondments   on November 1. Additional ES staff will join the team in the coming months. We'll update you in future articles.
Student Stream
A core team from the IRP have been working together for many months to prepare for the official launch of the Student Stream. The core team will lead the stream work in collaboration with business and subject matter experts from ES and other faculties and departments across UBC.
Student Stream Core Team
Director, Transformation: Jenny Phelps
Associate Director, Transformation: Asima Zahid
Project Manager: Dan O'Brien
Business Analysts: Jacqueline Kendrick (Senior. BA), Jen Duggan, Shanna Walters, RJ Dolamulla, Davin McLeod, Angel Cheung, Bonnie Dean-Stobie, Alan Goodwin, and Sandra Yee
Senior Change Management Specialist, Marianne Boyles
Seconded ES Staff Supporting the Student Stream
Four teams, corresponding with four scope areas in the Student  Stream (Admissions, Records & Advising, Student Finance, and Student Financial Support), have been recruited from Enrolment Services, and other departments and faculties across UBC. These staff have been selected based on their experience and expertise in the scope areas they will represent.
The team is comprised of a business lead and a number of faculty and/or administrative subject matter experts (SMEs). The following Business Leads and SMEs have been seconded from Enrolment Services into full-time roles on the IRP.  Continue reading "ES and the Integrated Renewal Program"