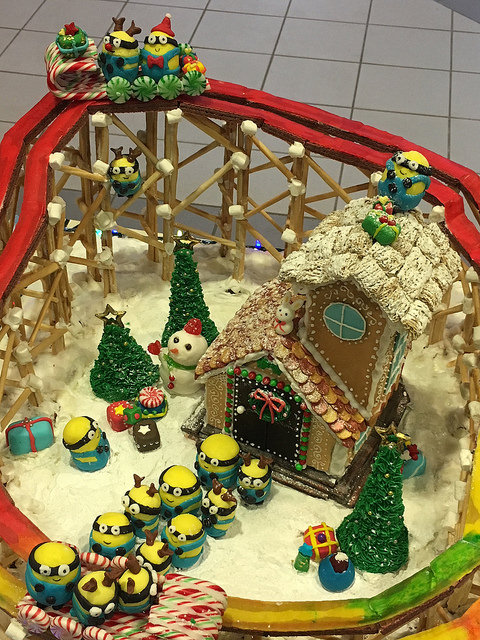 The Main Event
Another year, another hard-fought battle for gingerbread house domination.
For the second year in a row, the team in Student Financial Services (SFS) took home the win. While the competition was fierce and several teams were in contention for top prize, ultimately SFS's impressive engineering skills and use of edible components gave them the edge.
Kudos to all of the teams who took part this year! If you were disappointed that your team didn't win, remember that the trophy will be up for grabs again next year and it's never too early to start planning…
Giving Back
I'm pleased to say that we exceeded our $500 fundraising goal for the Greater Vancouver Food Bank. Through direct donations and 50/50 ticket sales, we raised $660 that went towards supporting people in need.
Holiday Pary
This year, ES and the Integrated Program team celebrated the holiday season together at the Nest. Check out Flickr for photos of the party and all of the gingerbread house creations.
If you have additional photos of the party or gingerbread house competition that you'd like to share in the Flickr, please send them my way.
Thank you
A special thank you goes out to Patty Gallivan, the UBC Community United Way Campaign Coordinator, and to Paul Chan and Robert Stout from Desktop Services for taking time out of their day to judge the gingerbread house competition.
Finally, thank you to everyone who helped with set up, selling 50/50 tickets, and checking in staff at the party. I apologize for not listing all your names here, but please know your help was appreciated!