In The Four Steps to the Epiphany, Steven Blank talks about how important it is to understand the market before undergoing any new venture, as it will influence many aspects of your marketing strategy, including the development of your product. A few of the key areas that he talks about considering include:
the size of the market
the positioning of your products v. other products
understanding your customer's needs
We'll look at each of those in our analysis of the market for professional development using social media.
Market Size
The market for professional development opportunities is a fairly large one, with a market report from IBIS World putting revenue for the industry at $9.9BN.
While in some places we might discuss professional development in the context of most of us being education professionals, the graph above estimates the market size for professional development opportunities for 'business' skills. The information contained in the graph however can act as a proxy for our analysis since we are not only considering professional development for education professionals. In short, this is a growing industry where opportunity might abound.
We can couple this information with knowledge that adoption of social media in general has been growing at an exponential pace over the last years. McKinsey, the consultancy, estimated that the social media market could add $1.3 trillion to the US economy by 2018, and we can assume from these numbers that the trend is worldwide.
From looking at Google Plus, Pinterest, and Twitter in our analysis, we believe that there is widespread use already of some social media platforms for professional development, albeit less formal modes of professional development.
The Economist in a recent article outlining how technology is set to upend education in the US corroborates the conclusions that come from our quick market sizing, that while the market for technology enabled education is large there are no dominant players, and no particularly dominant trend. In the article the Economist seems to divide the players into two areas: large, established, well capitalized incumbents (e.g. Pearson), and smaller more nimble Venture Capital (VC) or Private Equity (PE) backed players. The social media industry mimics this structure: think Facebook and Google, versus Pinterest and Twitter.
Lastly, it's important to consider the large number of high value purchases by the established players of the smaller VC/PE backed players. The McKinsey report forecasting an incredible growth in this industry suggests that the large well capitalized incumbents will continue on their buying spree in this space. This makes the market even more attractive for a new venture as the intensity in purchasing means many options for a lucrative exit.
Customer Needs
For this short analysis we'll narrow the scope back to professional development for educational professionals. This will allow us to consider the positioning of a product that would look at that particular niche.
The National Staff Development Council in the US and the Stanford Center for Opportunity Policy in Education published a study called The Status of Professional  Development in the United States. In the study the found that "while most teachers are getting professional development on the content they teach, the number of contact hours they experience on a single topic in a given year is insufficient to make a difference in student achievement based on empirical research on effective professional development". They found that there was a strong difference between different states, and different school districts within each state. This lead to one of their key recommendations: for states and districts to focus their professional development investments into resources that 'level the playing field' across schools and communities.
From the study we can glean these three needs:
The need for resources that have low barriers to access by education professionals scattered among a wide range of geographic regions

The need for resources that allow for a large amount of 'contact hours' to be experience by those professionals on specific topics, with the implications that you would need large amounts of material to make this happen
These trends are important because they will motivate two potential customer bases, teachers and institutions that act as a middle-man between professional development opportunities and teachers (e.g school districts, universities, professional associations, etc…). The demand drivers for these customer bases come from external pressure to the organizations that we identified, but also from individual professional educators. Externally organizations that house educators are facing a overall decrease in funding, and are facing larger demands from their own customers (e.g. government, parents, etc…) to demonstrate the efficacy of the educators that they house. This means that organizations that house educators need solutions that provide robust learning, in a platform that scales, and is relatively low cost per educator trained. Individually for educators, given the increase in measurement of their performance, there is a stronger need to remain competitive as a professional. This translates into a need for finding learning opportunities that are convenient for professionals (e.g. they can do them whenever), are affordable, and are easy to find.
From our SWOT we believe social media, but particularly the platforms evaluated, can start to address the needs outlined above because:
They provide large amounts of resources to increase contact time for any specific topic

They provide one on one interactions that can lead to deeper learning than just one off resources
The openness of most platforms allows users to connect with them in novel ways (think apps and plugins for Google Plus or Twitter)
Most platforms are both asynchronous (via archiving) and also real-time allowing users to access the content when they want
Most platforms are accessible through multiple channels (e.g. desktop, mobile, off-line) allowing users to access co
Some weaknesses we've identified are:
Difficulty in sorting through the large amount of content available

Difficulty in finding the right person to connect with
There are learning opportunities but they are not formally established such as in a course in the MET program or a MOOC
When we map these strengths and weaknesses to our analysis of the demand drivers, we can see that the social media market is a viable space for a platform that addresses the needs of educators and the organizations that house them.
Positioning
We decided then looking at the customer needs that we should evaluate different available platforms on two variables: (1) how likely am I to find the right learning opportunity or resource, and (2) what is the robustness of the learning that occurs. These two variables came directly from our customer needs assessment. The chart below is our interpretation of where the social media platforms we created lie, and where some other major players and types of platforms are.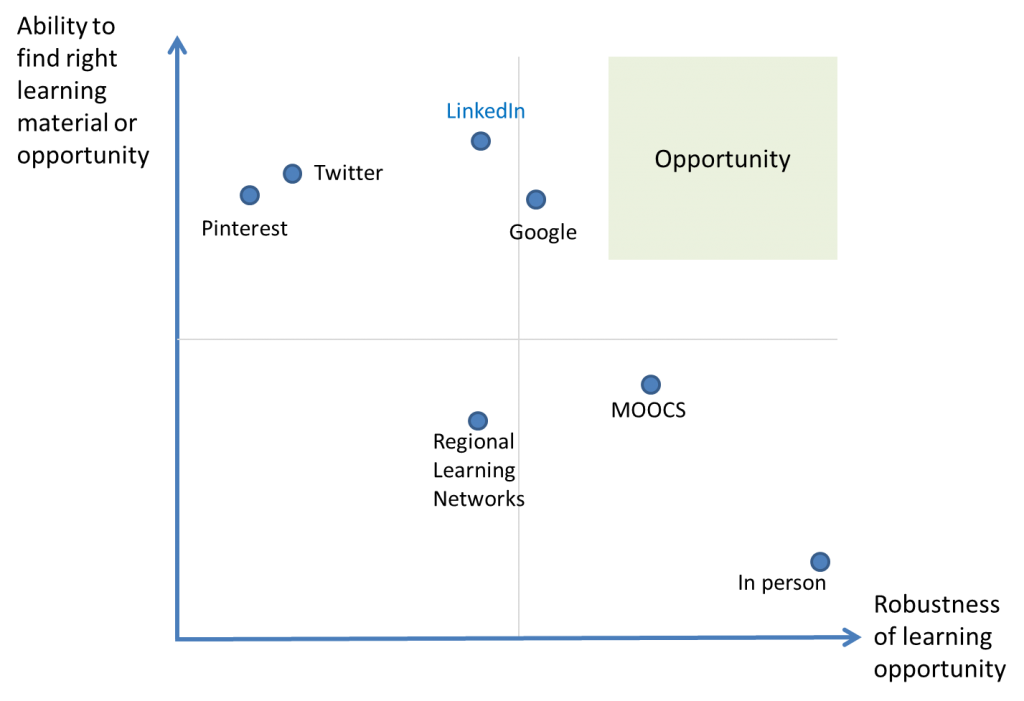 We focused on looking at opportunities that would target the two weaknesses we identified in social media: (1) the difficulty in find the right resource, and (2) the lack of robustness in learning. When considering platforms in the 'Ability to find right learning material or opportunity' dimension, we considered not just the volume of information available, but also how easy it is to find the right piece of information both when it comes to the interface (e.g. Pinterest's highly visual nature), but also the way the platform groups information (e.g. LinkedIn's professional groups). When considering the robustness of the learning opportunity we considered the amount of meaningful discussion, the formalness of the curriculum, and if the platform enabled the completion of any hands-on learning.
When we look at the space we see that some social media platforms are quite robust when it comes to finding the right material or learning opportunity. While Twitter has a significantly larger volume of information than Pinterest, you will notice we rank them similarly due to the perception that with twitter "there is so much chaff to find a good grain of wheat " (2013, John Lee), while Pinterest's visual nature makes it easy to find the right content. While these platforms host large amounts of information and potential learning opportunities, we find that they are severely limited by the lack of robustness of the learning they can provide.
When considering robust learning we set our anchor point to formal in-person learning opportunities, such as a university course on a specific topic. Two social media platforms bring large amounts of content and opportunity further to the ideal top right quadrant in our chart above, LinkedIn and Google Plus. We believe Google Plus provides the most robust learning with it's ability to integrate with all aspects of Google which enables collaboration (e.g. Google Doc), with it's Hangouts which enable live and asynchronous discussions, and with it's circles which allow one to find the right opportunity quickly. While LinkedIn is already tied into the 'professional' world, and allows for one to find the right opportunity more quickly than Google Plus by creating networks of professionals with similar interest, we believe that the robustness of the learning opportunities is not as high as with Google Plus.