FIFTEEN features the works of 15 UBC Okanagan alumni from both the Bachelor of Fine Arts and Masters of Fine Arts programs, in celebration of the campus' 15-year anniversary.
These artists are featured in a catalogue, produced in partnership by alumniUBC and the Faculty of Creative and Critical Studies, as well as part of an exhibition at the Kelowna Art Gallery. This project is part of the events happening for Homecoming 2020 at UBC Okanagan.
Artists included in FIFTEEN:
Moozhan Ahmadzadegan
Brit Bachmann
Scott Bertram
Arden Boehm
Sarah Burwash
Connor Charlesworth
Jon Corbett
Carin Covin
Jorden & David Doody
AJ Jaeger
Christian Nicolay
Ed Spence
Pamela Turner
Tania Willard
FIFTEEN will be on exhibition at the Kelowna Art Gallery in The Front Project Space from September 19 to November 15, 2020. UBC Okanagan alumni will receive complimentary admission at the Kelowna Art Gallery during Homecoming weekend.
The exhibition is co-curated by Briar Craig, Professor, Visual Arts, and Katherine Pickering, Lecturer, Visual Arts.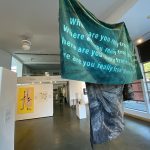 Moozhan Ahmadzadegan
BFA 2018
Where Are You From? شما مال کجا هستی؟(
(2019)
Cotton sheet, ink, spray paint
Dimensions variable
Where Are You From? attempts to navigate the complex intersections of ethnicity, culture, and nationality. This work questions the complicated implications of seemingly innocent questions, such as "where are you from?" when asked by strangers. This work is influenced by the ritual of this conversation; strangers will often ask me where I am from, noticing that I don't look white, or that my name sounds very "ethnic". I respond, as a second generation Canadian, that I am from Canada. The follow up question is almost always the same: "where are you really from?"
---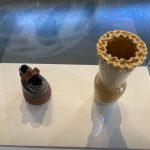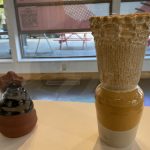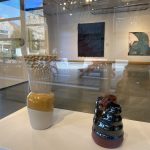 Brit Bachmann
BFA 2013
(The tall peach vase)
A visual arts program that doesn't have a pottery studio isn't worth the tuition (2020)
Clay, glaze
13 x 5.5 inches
(The shorter black and red vase)
Aggressively interrogate Eurocentrism in visual arts education (2020)
Clay, glaze
7.5 x 5 inches
There are seven years between my grad exhibition drawings and these clay vessels. While my social practice has been a frenetic transition through writing, publishing, radio and non-profit arts administration, my material practice has been steady in its stillness. From the repetition of my ink and vinyl animations, to inertia play on the potter's wheel, I seek out quiet solutions for documenting movement in time. A drawing is as truthful as a photograph, and a pot is as truthful as a stone. My vessels are not usually titled, but those who know my work know that I never pass up an opportunity for institutional critique, as was my training at UBC-O.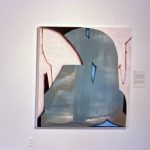 Scott Bertram
BFA 2007
Untitled (19-15) (2019)
Acrylic on Canvas
63 x 60 inches
I strive to create paintings that embrace uncertainty and increase my tolerance for ambiguity. Through the use of improvisation, intuitive structures, and openness to possibilities, I am able to proceed in a painting without fixing my view or knowing what the painting will eventually be. The kind of painting that I aim for is one that I am not completely able to grasp, yet it doesn't push me away, and so I want to stay with it and remain within its ambiguity—in not knowing.
Arden Boehm
BFA 2018
Crushed (2018)
Assorted metals, Baltic birch plywood
Dimensions variable
In a culture that is controlled by material accumulation, we are continually encouraged to look for gratification in the form of attainment. My work investigates the relationship that we humans have with everyday objects. I deal with concepts of production as well as categorization and the notion of the archive. The seeming banality of everyday objects is countered by the emphasis designated basis of my exploration. I am fascinated by the value placed upon specific objects, as well as the act of casting away the seemingly useless when something newer comes along. My investigation is fueled by the social concerns that arise from a continuously growing mess of mass-produced things that are often so quickly considered to be worthless.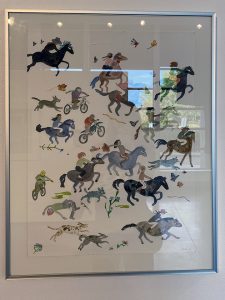 Sarah Burwash
BFA 2009
Grain of sand in my boot (2020)
Watercolour and collage
18 x 24 inches
Situated in non-specific yet decidedly natural landscapes, my work depicts figures experiencing the spectrum of life: creation, destruction, rest, play, curiosity, sorrow, exhilaration, death. Landscapes appear as outlying settlements in which I research the realm of physical and emotional experience including struggle, hard work, failure, and vulnerability. These dreamlike environments celebrate and question a range of gendered interests and identities with undertones of humour, fantasy, and performance. Nature perseveres regardless of its hardships—a disjunctive labyrinth to traverse in search of a meaningful path. In contrast to the virtual languages that saturate us, my intricate cut-and-paste style reflects an inclination toward the tactile and rudimentary.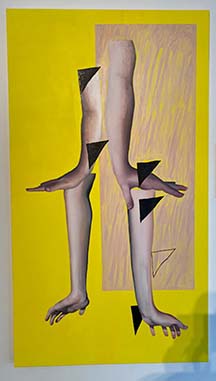 Connor Charlesworth
BFA 2015
Push Up, Yellow (2020) 
Oil on canvas
68 x 38 inches
The work Up Arms, Yellow is part of a series of paintings that are all the same dimensions. The figurative source imagery is derived from photographs I took and collaged together. All the works in this new developing series emphasize the verticality of the canvas and, for the most part, the forms remain contained well within the frame. I arrived at the subject matter and contained composition during the spring of 2020 during isolation and the various ongoing civil rights movements. During such times, I hope this network of gestures opens up a dialogue for consideration of our relationship to these events.
Jon Corbett
MFA 2015
Nohkom (2020)
Digital print on canvas
18 x 24 inches
Nohkom is from a series of digital portraits of my family and is the central image from my video work titled Four Generations that was exhibited at The Smithsonian's National Museum of the American Indian and Canadian (2017-2018) Contemporary Native Art Biennial (BACA) (2020). This portrait of my paternal grandmother was computationally generated using 3D virtual beads and is the origin of my current PhD research that involves the development of a more suitable digital media toolkit for Indigenous artists. This includes an Indigenously-based programming language (currently Cree), physical hardware designs for Indigenous orthographies, and software/application solutions that use Indigenous Storywork as programmatic code.
Carin Covin
BFA 2003, MFA 2010
Easel Quartet XI (2020)
Oil and enamel on canvas
38 x 54 inches
The Easel Quartet began as observation and response drawings that reflect my interest in the politics of the everyday. Second Wave Feminism allows me a poetic understanding of the politics of the everyday and of the home. The easels provide an entry point through their function and inclusion as observed objects. The resultant drawings are manipulated through changes to scale and mediums used. These new works are then photocopied. The resultant solvent transfers push the images past their original intentions.
These images are re-translated into a new suite of paintings; Easel Quartet XI and XII are the beginnings of these new investigations.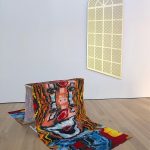 David & Jorden Doody
BFA 2008
Virtually Empty, 2020
Mixed Media Assemblage, printed fabric, printed reflective film aluminum dibond panel and ironing board.
Artist statement: As sculptors, We wade in the brackish waters between image and materiality, investigating the tactile qualities of sculpture and three-dimensional space in the virtual light of screen culture and the post-internet age of image explosion. With a genuine commitment to experimentation and improvisation, We construct material assemblages that respond to the constant deluge and saturation of visual information. Our work explores the migration of contemporary culture and imagination into the realm of the virtual network, where We are forced to reconsider presence, absence, and reproducibility as We sculpt our understanding of authenticity. Blurring the boundaries between the rational and the absurd, the measurable and the metaphysical, We strive to dislodge our creative practice from the dogma of prescriptive understanding. By wrapping the immaterial and the subconscious in a blanket of contemporary psychedelia, We seek to cultivate an unbridled space where contemplation and entertainment mingle freely. We encourage rogue collisions between icons, symbols, and materials that forge new and vibrant networks of associative meanings within the vast nebula of the Post-American Imagination.
AJ Jaeger
BFA 2013
It's a dark world out there (2006)
Mixed Media
72 x 48 inches
I believe that art is visual storytelling: communicating a needed message and showcasing beliefs, heritage, and vision. My work has deliberately evolved to depict the complexity and contrast of life through a combination of mediums, symbolism, and surface patterns. I am inspired by creating poignant works of art that catch the attention of people distracted by everyday life—as a rally-cry to remind us all to focus on what matters most. Intuitively acknowledging the uncertainty of life fuels my creative mind and heart to keep expressing candid emotions that positively transform our collective future.
Christian Nicolay
2000
On the Horizon Line (Shipping Pallet No.3) (2015)
Light jet photograph, salvaged Plexiglas, MDF, acrylic paint, found detritus paper, collage, ink, pencil, tape, correction pen
31 x 30 x 4 inches each (Diptych) (78.74cm x 76.20cm x 10.16cm)
Statement:
liminal
adjective

relating to a transitional or initial stage of a process.

occupying a position at, or on both sides of, a boundary or threshold.
liminal symbols of passage and transformation; doors, ladders, crossings, bridges, pallets.
On the horizon Line explores current issues of globalization and climate change through the lens of the liminal – a place betwixt and between. Our cultural landscapes are becoming increasingly crisscrossed and blurred through shifting borders and boundaries, directly impacting the growing challenges of migration and the transitory movement of people. Materials, images and objects reflecting concepts of liminality visually demonstrate transition and transformation – the visible and the invisible – the seen and unseen. The notion of 'space' and 'place' occurs in conjunction with idea 'temporary' and 'permanent' creating a play between the real and the unreal—the No Where and the Now Here.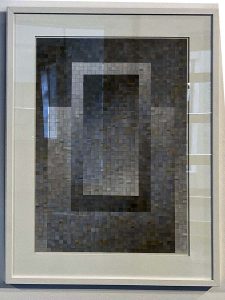 Ed Spence
BFA 2005
Tunnelling (2020)
Pigment print and adhesive on paper
25 x 32 inches
This piece is one in a long series of experiments involving the dissection of photographs. Beginning as a single photograph that is subsequently cut into small units and rearranged, the image is abstracted, transformed and the original subject is effectively denied to the viewer. No information is lost or gained in the process, only rearranged. Designed as a metaphor for our subjective sensorial experience, the process invites thoughts about how we interpret information based on idiosyncratic personal and cultural patterns, and additionally, how information can be decontextualized and manipulated.
Pamela Turner
Tunnelling (2020)
Pigment print and adhesive on paper
25 x 32 inches
I am focused on expanding the idea of fibre to include anything that can be linked or woven together, thus re-examining how fibres and materials function. It is important that my materials are only altered through the process of cutting, maintaining subtle but recognizable aspects of what the materials once were.
By choosing to keep my work monochromatic, my aim is to create an emergent image thatresults in a contemplative response from the viewer, both from a distance and up close.Blackness has been described as the definitive void, but it also marks the ultimate space ofcreative possibility. Monochromes both veil and reveal, as the expectations of objects weregularly associate with are given new potential through this method of material transcendence.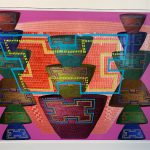 Tania Willard
MFA 2018
Gut Instincts (2018)
Digital print
~32 x 24 inches
Gut Instincts is an affirmation of women's intuition, gut instinct, and ancestral voices that collapse the past, future, and present into an embodied and visceral experience of the present. This work takes its origin in a design from a cedar-root basket collected as part of the North Pacific Jesup Expedition (1897-1902) from Stl'atl'imx territories. In many collections, basketry from this period is unattributed to a maker. As an expression of Indigenous women's art forms, this disappearance of named makers and ancestor artists represents the colonial disappearances and dispossession of Indigenous women, communities, and lands. My work seeks to bring these ideas, expressions, and questions that challenge the legacy and histories of anthropological framing of Indigenous art into connection with lived Indigenous experiences.