Natasha Harvey is a current MFA candidate at The University of British Columbia Okanagan Campus.
Layered Landscapes: Landscape Art, Politics and Connection
My artwork consists of a series of collaged landscape paintings and linocut prints, which seek to represent and communicate the effects of human interference on the environment while evoking the participatory spirit of love and beauty of nature. I spend time deepening my connection with the land in the Syilx peoples' unceded territories, walking and connecting through place-based research. Over time, during these walks, I have found the expansion of dwellings, homes pushing up the mountainsides around and over wetlands, impacting wildlife habitat and ecology. Construction cuts into the land. Culture and economy reshape the horizon, thus rendering 'space' politically complex. Therefore, achieving the colonial sublime is not a simple image of beauty without erasure. Can my depictions of the landscape illustrate this complexity and thus encourage a conversation about our expanding contribution to the detriment of the land.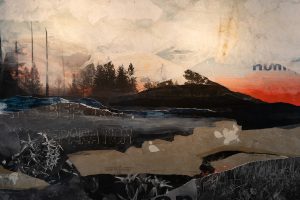 I have been considering landscape depiction in Canada. The legacy of the Group of Seven has contributed to the Canadian national identity and art. The most popular and recognizable paintings by this group depict a pristine land, devoid of human evidence. This interpretation and representation of landscape omit industry and human interaction. As an artist, I feel an urgency to try to depict a comprehensive version of landscape art in this time of climate crisis and environmental emergency. My version of landscape depiction illustrates a vista that is manipulated and used for human development. The landscapes illustrate land commodification and colonial capitalism with the intention to encourage discussion about our impact on natural spaces.
My family has a local construction business. We participate in manicuring and manipulating the landscape. Green grass, geometric ponds and infinity pools replace indigenous habitats. My family's livelihood comes from the commodification and development of the landscape. At the same time, I observe the detrimental construction management and practices happening in the Okanagan and recognize my part in it. My position within the construction industry is difficult. My love for the environment and local landscape has always been sincere however I recognize the paradox.
The collaged landscapes consist of juxtaposing images combined with found materials, photographs and expressive painting techniques. There are moments of tight and linear marks alongside messy and chaotic areas to construct or weave a layered poetic narrative. Collaged layers are built up and create meaning. I intend to illustrate the many contextual layers within a landscape. I use found construction materials that have been salvaged from worksites encroaching and overtaking the forest trails where I walk. The construction materials are juxtaposed with the photographic images of forests and living things I have documented during such walks. The linocut prints depict a forested wild landscape. The trees illustrated no longer exist, in their place, houses have been built or are in the process of construction. The prints are large and detailed. The process is meticulous, it takes time, love and care. Documenting forests that have been clear-cut through the slow process of relief printmaking is like a memorial of sorts.
Building my paintings is laborious. The linocut prints are challenging and time-consuming. It is physical work that mimics the labour involved when constructing a home. The paintings reflect industry with their large scale and overbearing proportion. These constructed landscape paintings are large in scale. It is meant to feel both encompassing and obstructive. A push and pull, as though you could physically enter the landscape however, it may also feel like a barrier. This implied barrier operates as a symbol of the disruptive nature of development and private property
Veneration is created to motivate discussion and awareness concerning our impact on ecology. This discourse could potentially encourage choices of care and contingency towards the environment. Rather than seeing the environment as a resource to be used, love and connection could alter this perception from resource to relative, as we are all elemental.