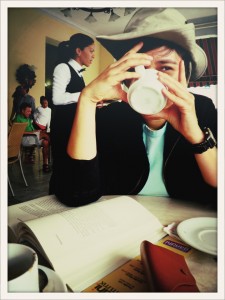 Thursday, Sept. 20th
12:30-2:30
Rm 028, Jack Bell Building
The Institute for Gender, Race, Sexuality and Social Justice (GRSSJ)
The Centre for Race Autobiography Gender and Age (RAGA)
& Critical Studies in Sexuality (CSIS)
is proud to host Mexican artist and activist Ari Belathar
Ari Belathar is a Mexican poet and playwright in exile. A participant in Artscape's Gibraltar Point International Artists Residency Program, she has published poetry in literary journals and anthologies around the world. Belathar published her first collection of poetry in English, The Cities I Left Behind by Radish Press. Currently Belathar is working on the development of La Danza del Venado, a multidisciplinary play inspired by her own experience of illegally crossing the border into the United States as a child to reunite with her father.
Please join us for this unique and rare event.
Ari will present a collection of her poetry and writings, followed by a question and answer session.
Lunch will be served.