Educational developer's portfolio: Resources for creating your own
For the past two years, I have had the pleasure of collaborating with a dynamo group of educational developers on the Educational Developer's Portfolio*. This initiative allowed me to take my interests and experience in the area of teaching portfolios, and apply it to educational development. Good stuff!
The authors of that Guide are delighted to be able to share this free downloadable resource with our community!
Also, Judy Chan and I recently offered a webinar on the Educational Developer's portfolio for the Educational Developers Caucus. Below are some resources that might be of interest:
Additional resources can be found on WikiPODia, from the conference session that Jeanette McDonald, Debra Dawson, Erika Kustra, Judy  Chan and I co-facilitated (Natasha Kenny and Paola Borin collaborated to plan the session but were not able to make it to POD 2015 ).
Resources from POD include, but are not limited to:
framework for aligning a portfolio.
worksheet for beginning to develop a section of your educational developer's portfolio ('workshops facilitated')
And, for those who like to see samples, here are portfolios Judy and I showed and talked about during the webinar: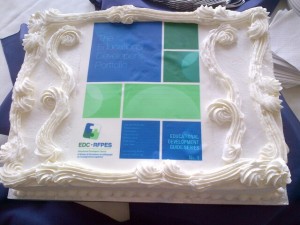 Photo: taken by Jeanette McDonald. Cake made in honour of first EDC Guide (ours!) in the Series.
*"An educational developer's portfolio is a tool used to articulate, reflect upon, and provide evidence of an educational developer's beliefs, values, ethical principles, practices, approaches, development, and impact." (McDonald et al., 2016, p.12)
Guide reference:
McDonald, J., Kenny, N., Kustra, E., Dawson, D., Iqbal, I., Borin, P., & Chan, J. (2016). Educational Development Guide Series: No. 1. The Educational Developer's Portfolio. Ottawa, Canada: Educational Developers Caucus. Download here.
For more information about the EDC Guide Series, see here.