When I went to Grouse Mountain about a month ago. Danone had a food truck at the foot of the mountain and served its Oiko yogurt for free! This incidence made me more interested in learning about Danone, who is always regarded as a successful sustainable company.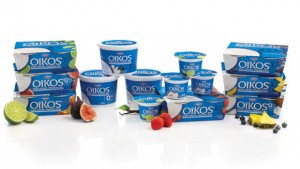 In terms of the social measures from the Triple Bottom Line, Danone is always able to find out the weaknesses and drawbacks of its suppliers and consumers and the needs of the mass market, and turn it into the business opportunity. For example,it started a project to produce and sell nutritious yogurt produced by local small farms to children suffering from malnutrition in Bogra Bangladesh in a quite low price—10 cents each! Also,two of its objectives are to"help farmers to compete" and  "make the farmers proud",Danone shows its respect and gratitude to key partners,which is beneficial for them to achieve joint interests.
In terms of the environmental measures,Danone has "Nature" program includng reducing environmental impact and improving milk quality.It is always looking for alternative feed for cows to reduce the methane emissions.Danone takes a positive attitude towards its own problems and tries to change them because if it doesn't, these problems may destroy it eventually.
Danone's success in sustainability is the reason that it can be one of the best world brands.As the founder,Antoine Riboud declared,"A company's responsibility does not end at the door to the factory or the office."The larger the company becomes,the more responsible it should be.Danone's excellent achievement in social responsilibity reminds me of the "2008 Chinese milk scandal".Such a strong cotrast tells us, there is still a long way for many chinese companies to grow into a really responsible and reliable company.They should study the example of Danone,not be anxious to get instant benefits in a immoral and illegal way but have a long-term vision and develop in a sustainable way.
resource:
1.http://www.greenbiz.com/blog/2011/12/27/danones-recipe-sustainable-innovation?utm_source=twitterfeed&utm_medium=twitter&utm_campaign=Feed%3A+greenbuzz+%28GreenBiz%29
2. https://www.google.ca/search?q=oiko&biw=1366&bih=640&source=lnms&tbm=isch&sa=X&ei=H8ZfVImiAsffoATS0oLACg&ved=0CAYQ_AUoAQ#facrc=_&imgdii=_X57S9isPztgoM%3A%3Bd6YEkPo5IUWpSM%3B_X57S9isPztgoM%3A&imgrc=_X57S9isPztgoM%253A%3BN2SC_ORrZaY1VM%3Bhttp%253A%252F%252Fwww.danone.ca%252Fsites%252Fdefault%252Ffiles%252Fnew_look_EN.png%3Bhttp%253A%252F%252Fwww.danone.ca%252Fen%252Fproducts%252Foikos%3B1290%3B390