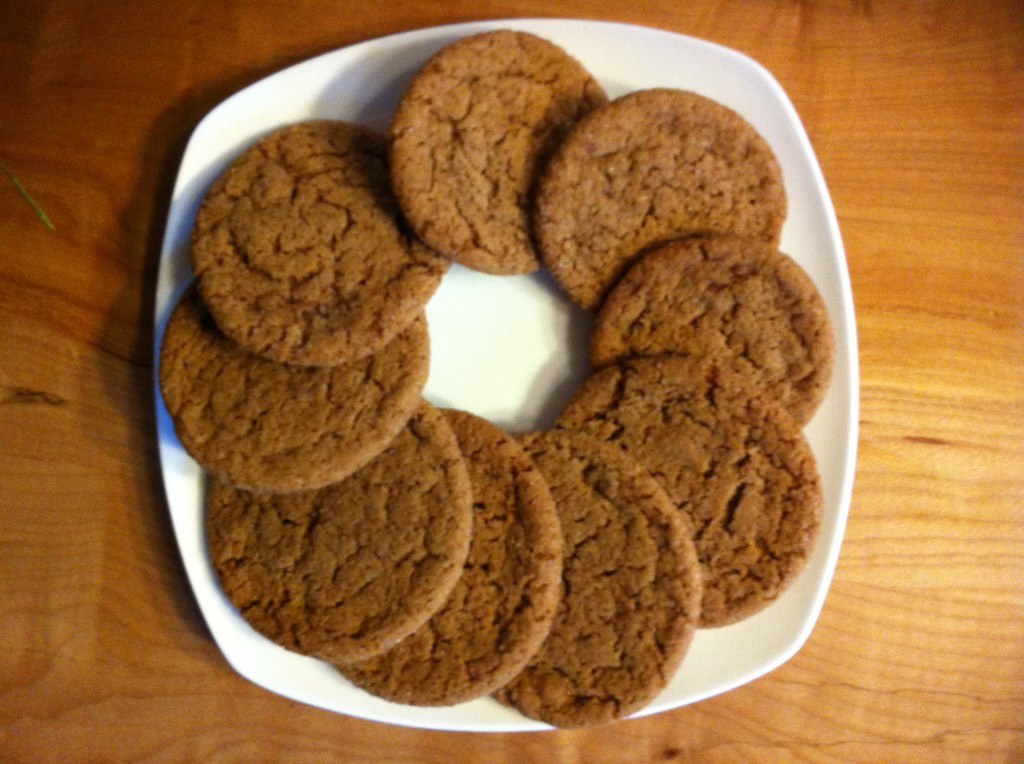 This recipe needs to be shared.
Every Christmas as a child I would make a huge batch of fantastically chewy ginger cookies. I would cut them into christmasy shapes and give them away as gifts. The recipe was from 'Company's Coming Kids Cooking' and my secret was I added a butt load of extra corn syrup and molasses to make them….
chewy.
Did I mention they were chewy?
They became my trademark. In my ten-year-old head I was famous for them, and it wouldn't be Christmas without them.
But alas, now that I don't eat eggs or butter the recipe is a no go. Not to mention a food sustainability major such as myself wouldn't be caught red handed pouring out GMO corn syrup.
And did I mention I'm wheat intolerant?
So much for my go-to recipe.
However!
After several rounds of failure last year I have achieved perfection. Truly. I know this because my mother approves.
And she ain't no lax critic.
SO without further ado.
Oh So Chewy Ginger Cookies 
1/2 cup Earth Balance vegan "butter"
1/2 cup coconut oil, melted
2 Tbsp brown rice syrup
1 Tbsp maple syrup
2 tsp Egg Replacer (I used EnerG brand)
2 Tbsp water
1 cup raw (dark) sugar (Muscovado, demerara or coconut sugar)
1 cup light cane sugar (Turbinado)
1/2 tsp salt
2 cups light spelt flour
1 cup whole spelt flour
2 tsp baking soda
1 1/2 Tbsp cinnamon
1 tsp ginger
1/4 tsp cloves
light cane sugar, for dusting
Preheat oven to 375°F or 350° convection.
Allow 'butter' to soften to room temp. Melt coconut oil in microwave.
Whisk together egg replacer + water
Add first 6 ingredients together and beat until smooth and whipped-looking.
In separate bowl, whisk together the rest. Add to wet and gently fold until combined.
Roll into 2 inch balls and roll in cane sugar. Press lightly onto baking sheet (nonstick or parchment lined.)
Bake for 6-8 minutes. Do not over-bake! They should still look puffy and underdone when you take them out- do not be fooled!
Allow to cool then transfer to wire rack.
Eat them all!