Summary:
"Instant Messaging and the Future of Language" by Naomi S. Baron
This article illustrates the notion of whether or not computer-mediated communication (CMC) is affecting the use of standard English among the young generation. The author demonstrates how the use of standard English has evolved through the Middle Ages and the Renaissance to the modern days. The author also conducted a study at American University in Washington, D.C., which investigated the use of instant messaging via America Online Instant Messenger (AIM) among undergraduate students. The research suggested that "IM conversations serve largely pragmatic information-sharing and social-communication functions rather than providing contexts for establishing or maintaining group identity" (30). The author suggests that parents and educators play a significant role in ensuring the use of formal English among adolescents and that IM is unlikely to have any profound role in changing the writing standards as long as the society does not accept this form of writing as the new standard.
"Txting: the end of civilization (again)?" by Victoria Carrington
This article begins with the author's recent interview on an Australian radio channel regarding an essay that was fully written in text-language, submitted by a 13-year-old Scottish schoolgirl. The author was asked to discuss the issue of the "legitimacy" (or not) of txt as a form of text. Consequently, the author uses discourse analysis to analyze the initial article and another article regarding texting that was published the next day. The author finds that the articles contained fearful language regarding texting, which she described as a "rhetoric of crisis" (171). The author then illustrates how teachers play an important role in keeping this "correct" version of English and that teachers "are increasingly monitored and controlled" to fit this role of guarding the use of Standard English among teenagers (169, 170). In her conclusion, she proposes that txt should not be dismissed; it is one of many texts that students should become familiar with and fluent in.
Our Standpoint:
 Is texting really a threat?
No, texting is not a threat to the English language or to our students' literacy.

Text language is just another register that students learn to use in the appropriate setting.

There are many different types of literacy, text literacy is one of them. Students need to be multiliterate.

Students should be learning and using forms of communication that are relevant to today's technologies and ways of interacting.

There are many useful web tools that facilitate teacher-student discussion through texting, in which even shy students feel confident participating.
Connecting texting to Language Arts:
Writing dialogue through texts in creative writing:
How to incorporate text-messaging into narratives? Has anyone read any new novels that incorporate text-messaging in the story? Writers are having interesting conversations online about how to represent text-messaging in their novels and short stories.
There is also the growing popularity of the "cell phone" novel genre.
Discussion Questions:
What are your thoughts towards students using texting as a form of communication with the teacher?  Have you had any experience in this context?

Is using text-language becoming a more dominant way of how children communicate these days? Do you think this will affect their use of formal language?

Do you think teachers are the "gatekeepers" of language? Why might they be perceived this way?

Can you think of some other ways that texting or text-language could be used in the classroom?
Activity:
Use discussion question #2 as an example on Poll Everywhere and have everyone text in their answers.
Transfer responses to Tagxedo.
Our result: Communication Cat 🙂
Thanks for your participation!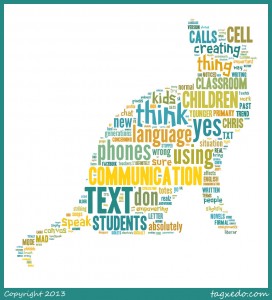 References:
Baron, N. S. (2005). Instant messaging and the future of language. communications of the ACM, 48(7), 29-31.
Carrington, V. (2005). Txting: The end of civilization (again)?. Cambridge Journal of  Education, 35(2), 161-175.
– Christina Lee, Melanie McKenna, Dayonne Wegner, Sarah Wu